Guide d'usage de la méthode IDEA4 à l'attention des utilisateur·rice·s dans des activités d'accompagnement des agriculteur·rice·s vers la durabilité en agriculture
This user guide corresponds to deliverable 10 of the ACTION project (CASDAR 2017-2022). It is the result of four years' work (2018 to 2021) of testing the IDEA4 method as part of the ACTION project. It is intended for agricultural advisors and other professionals wishing to use this method in their advisory and change management activities for the agro-ecological transition. Its main aim is to provide some advice / recommendations to guide future users (agricultural advisors and other professional users) in carrying out IDEA4 diagnoses with farmers engaged (or wishing to engage) in an agroecological transition process, using the IDEA4 method to question the overall performance (level of sustainability) of their transition. This user's guide is complementary to the book on the IDEA4 method (2023) published by Educagri.
Ce guide d'usage correspond au livrable 10 du projet ACTION (CASDAR 2017-2022). Il est le résultat des travaux de tests de la méthode IDEA4 pendant quatre années (2018 à 2021) dans le cadre du projet ACTION. Il est destiné aux conseiller·ère·s agricoles et autres professionnels souhaitant utiliser cette méthode dans leurs activités de conseil et d'accompagnement au changement pour la transition agroécologique. Son objectif principal est d'apporter quelques conseils et recommandations pour guider les futur·e·s utilisateur·rices (conseillers du monde agricole et autres utilisateurs professionnels) à réaliser des diagnostics IDEA4 auprès d'agriculteurs engagés (ou qui souhaitent s'engager) dans un processus de transition agroécologique en s'appuyant sur la méthode IDEA4 pour questionner la performance globale (niveau de durabilité) de leur transition. Ce guide d'usage est complémentaire à l'ouvrage sur la méthode IDEA4 (2023) publié aux éditions Educagri.
Fichier principal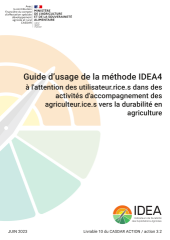 angot et-al _Guide_usage_conseillers_2022_08_31.pdf (3.25 Mo)
Télécharger le fichier
Origin : Files produced by the author(s)