L`approche conceptuelle pour l`étude des avalanches
The serious study of avalanches began half a century ago, following two major lines of investigation: a deterministic approach, inspired by the theories of fluid mechanics, and a statistical approach, both well known by all specialists in the field. This book explores a new conceptual approach, closer to hydrology than hydraulics, which relies solely and rigorously on the field data of the avalanche path studied. This approach is clarified and compared with both the deterministic and statistical approaches. The authors' past and current research implementing this approach is presented: the global analysis of the rheology of certain avalanches, the elaboration of new conceptual models validated by comparison with field data, and a methodology for determining extreme events by extrapolating the knowledge garnered from past events. Statistics add an important complement to the book, with classical elements such as adjusting statistical distributions on random variables and other newer components such as the analysis of avalanche triggering probability. The first nine chapters present the research carried out by the Snow Avalanche Engineering and Torrent Control Research Unit. As the exploration of these topics is far from finished, chapter 10 examines a number of research projects that could consolidate the basis of this apparently very promising approach.
L`étude des avalanches a débuté de manière consistante il y a un demi-siècle, selon deux approches principales, l`approche déterministe, inspirée des théories de mécanique des fluides, et l`approche statistique. Toutes deux sont fort connues de tous les spécialistes. Ce livre explore une voie nouvelle, l`approche conceptuelle, proche de l`hydrologie plutôt que de l`hydraulique, qui consiste à utiliser uniquement et rigoureusement les données de terrain du couloir étudié. Cette approche est donc explicitée et comparée aux deux autres. Sont présentées ensuite toutes les investigations conduites à ce jour par les auteurs selon l`état d`esprit spécifique à cette approche, comme l`analyse globale de la rhéologie de certaines avalanches, l`élaboration de modèles conceptuels nouveaux, validés par comparaison aux données de terrain, ou une méthodologie de détermination d`événements extrêmes par extrapolation de la connaissance issue des événements passés. Les statistiques constituent une part complémentaire non négligeable du contenu du livre, avec des parties classiques, comme le calage de distributions statistiques sur des variables aléatoires, d`autres plus nouvelles, comme la recherche de la probabilité de déclenchement d`une avalanche. Les neuf premiers chapitres présentent les travaux de recherche conduits par l`unité de recherche Erosion Torrentielle Neige Avalanche. Comme l`exploration de ce thème est loin d`être terminée, le dixième recense quelques projets de recherche qui permettraient de conforter l`assise de cette approche dont les débuts apparaissent très prometteurs.
Fichier principal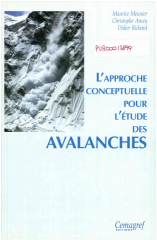 PUB00013899.pdf (12.29 Mo)
Télécharger le fichier
Origin : Publisher files allowed on an open archive