Decoupling and prices: determinant of dairy farmers' choices?
Découplage et prix : les déterminants du choix des éleveurs laitiers ?
In this paper, we discuss the cross-effects on the productive strategy of French dairy farms due to the decoupling and to price variation. A model based on mathematical programming has been developed to determine how dairy farmers might re-evaluate their systems to identify an optimal production plan. The model is applied to four types of dairy farms in order to analyze the impact of the reform depending on farm's activities. The simulations point out how the implementation of the decoupling encourages farmers to increase the share of grassland. However, the increase in cereal prices is a strong incentive to intensify forage production to free up land for crop production. Finally, after four years of decoupling, this study helps to put into perspective the theoretical effects of decoupling and the actual choices made by farmers. This article identifies six factors which could explain these differences: the long-term production requirements, the eligibility criteria for the direct payment, the sociology/psychology of the farmer, the anticipation of a new reform, the trade organization and the value of property assets.
Dans cet article, nous discutons des effets croisés de la mise en œuvre du découplage et de la variation des prix sur les stratégies productives des exploitations laitières françaises. Un modèle basé sur la programmation mathématique a été construit afin de déterminer comment les producteurs de lait réévaluent leurs systèmes afin d'identifier le plan de production optimal. Ce modèle est appliqué à quatre types d'exploitations laitières afin de déterminer les impacts de la réforme sur différents systèmes techniques. Les simulations montrent que le découplage encourage les agriculteurs à modifier leurs assolements au profit d'une part croissante de prairies. Toutefois, l'augmentation du prix des céréales va dans le sens d'une intensification de la production fourragère permettant de libérer des surfaces pour les grandes cultures. Enfin, quatre années après l'application du découplage, cette étude permet de discuter de l'écart entre les effets théoriques attendus du découplage et les choix réellement opérés par les agriculteurs. Cet article identifie six facteurs pouvant expliquer ces différences : les caractéristiques d'une production agricole de long terme, les critères d'éligibilité au paiement direct, la psychologie/sociologie de l'agriculteur (aversion au risque), l'anticipation d'une nouvelle réforme, les organisations de commercialisation et la valeur des facteurs de production.
Fichier principal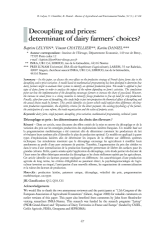 Chatellier-2011-Decoupling and prices: determinant of dairy farmers' choices?_1.pdf (270.69 Ko)
Télécharger le fichier
Origin : Publisher files allowed on an open archive