Agrarian societies, urbanization and the land tenure issue. An African exception ?
Sociétés agraires, urbanisation et question foncière. Une exception africaine ?
Cet éditorial à un numéro spécial consacré à un numéro thématique consacré à la dimension foncière des changements agraires propose de relier trois grands « défis » contemporains du développement. Le premier est celui de l'évolution atypique des agricultures de l'Afrique au Sud du Sahara. Les deux autres sont également en relation étroite avec « l'exception africaine ». D'une part, la question démographique et la transition de sociétés à dominante agraire à des sociétés à dominante urbaine ; d'autre part, la question foncière et l'évolution des régimes dits coutumiers face aux enjeux contemporains du développement rural. Un point de vue rétrospectif sur la littérature montre qu'en fin de compte, les analyses n'ont pas profondément changé durant les dernières décennies. Elles continuent d'opposer deux approches, l'approche quantitative en termes de performance et l'approche qualitative et compréhensive en termes de processus, alors qu'il conviendrait plutôt de les combiner. Mais il est plus facile de le dire que de le faire. Une façon de répondre à cette difficulté est d'inverser la tendance des dispositifs de développement à « trouver des problèmes aux solutions », de rendre compte pour eux-mêmes des systèmes agraires existants et d'évaluer les performances des sociétés agraires africaines en termes de processus.
Fichier principal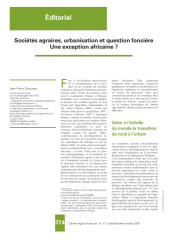 2007_chauveau_cahiers_agricultures_1.pdf (90.64 Ko)
Télécharger le fichier
Origin : Publisher files allowed on an open archive