Conference Poster
Year : 2013
Optimizing durum wheat-grain legumes intercropping through cultivar choice
Fichier principal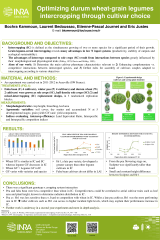 Poster_2013_First_legume_society_conference_Cultivar.pdf (983.86 Ko)
Télécharger le fichier
Origin : Files produced by the author(s)
Dates and versions
Identifiers
HAL Id :

hal-02745411 , version 1

PRODINRA :

259041
Cite
Bochra Kammoun, Laurent Bedoussac, Etienne-Pascal Journet, Eric E. Justes. Optimizing durum wheat-grain legumes intercropping through cultivar choice.
1. Legume Society Conference 2013 : A Legume Odyssey
, May 2013, Novi Sad, Serbia. International Legume Society Institute of Field and Vegetable Crops, 145 p., 2013, First legume society conference 2013 : a legume odyssey.
⟨hal-02745411⟩