Adapting to climate change, why not the vine?
Climatologists' forecasts continuously point out the planet warming. Along with agronomists they try to infer a set of possible changes in the vines behaviour. But do vintners who live with their vines see such expected changes? They see many changes in the vine behaviour, which seem to confirm the global warming. Yet a closer examination shows that they are very careful while tying these changes to the only slow global warming nor to any increase of a precise meteorological parameter. The possible causes for the observed changes are many: ordinary yearly meteorological changes but also technical change, demand change, taste evolution… In the en, the changes are more than expected, which reinforces the necessity to adapt to the technical, taste, customers and regulation changes. Which technical adaptations can be considered? Which are de good commercial strategies? How should the regulations frame and adjust to these changes? And most of all, who is expected to adapt to the changes? The answer of some of the vintners is unexpected : the vine has to share the adaptation burden with the vintner.
Les prévisions des climatologues appuient sans relâche un réchauffement de la planète. Avec des agronomes, ils tentent d'en inférer les modifications sur le comportement des vignes. Mais qu'en est-il des vignerons qui vivent dans les vignes ? Que voient-ils de ces changements escomptés ? Les vignerons de leur côté voient de multiples de changements dans le comportement de leurs plantes qui semble confirmer ce réchauffement. Mais ils sont très prudents dans l'attribution de ces changements au seul lent réchauffement de la planète ou à une augmentation d'un paramètre météorologique particulier. Les causes possibles des changements observés sont nombreuses, changement météorologique annuel ordinaire, mais aussi changement technique, changement de la demande, évolution des goûts… Au final les changements sont plus nombreux qu'escomptés et la nécessité de penser l'ajustement des techniques, des goûts, des consommateurs et des réglementations s'en trouve renforcée. Quelles adaptations techniques sont envisageables ? Quelles stratégies commerciales faut-il retenir ? Comment la réglementation peut-elle à la fois cadrer et s'ajuster à ces divers changements ? Et surtout, qui doit s'adapter au changement ? La réponse de certains vignerons est surprenante : la vigne doit, conjointement avec le vigneron, assurer l'adaptation aux changements naturel.
Fichier principal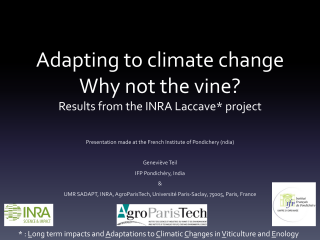 S'adapter au CClim IFP 03-2016.pdf (269.15 Ko)
Télécharger le fichier
Adapting to climate change.pdf (317.8 Ko)
Télécharger le fichier
Origin : Files produced by the author(s)