The modulation of direct payments (article 10 of Council Regulation n°1782/2003). Case Study Report for France
La modulation des paiements directs (article 10 du règlement n°1782/2003). Rapport pour la France.
Following the 2003 CAP reform, and under Article 10 of EC Regulation No. 1782/2003, a compulsory modulation of direct aids from the first pillar was implemented in 2005. This device allows to deduct 5% of direct aids from the first pillar beyond a franchise set at 5 000 euros per farm. In France, a part (80%) of the collected funds is redistributed in favour of the Rural Development Programme (PDRH). This report presents an evaluation of the impacts (economic, social and environmental) of this modulation device for French agriculture. This evaluation was conducted using several sources of information: a literature review focused on documents related to the CAP and the rural development programme; some interviews focused on specific issues of the evaluation; some simulations conducted thanks to the Farm Accountancy Data Network (FADN). This report was produced as part of a more comprehensive evaluation (at the European scale) directed by LEI (agricultural economics research institute in the Netherlands) for the Directorate General of Agriculture and Rural Development of the European Commission. The report also proposes an analysis of the modulation device applied in France in 2000 and 2001 (Article 4 of EC Regulation No. 1259/1999) and proposals made (20 may 2008) by the European Commission under the health check of the CAP.
Suite à la réforme de la PAC de 2003, et au titre de l'article 10 du règlement CE n°1782/2003, une modulation obligatoire des aides directes du premier pilier a été instaurée à compter de 2005. Ce dispositif permet de prélever 5% des aides directes du premier pilier au-delà d'une franchise fixée à 5 000 euros par exploitation. En France, une partie (80%) des fonds collectés est redistribuée au profit des mesures du Programme de Développement Rural Hexagonal (PDRH). Ce rapport présente une évaluation des impacts économiques, sociaux et environnementaux de ce dispositif pour l'agriculture française. Cette évaluation a été conduite en utilisant plusieurs sources complémentaires d'informations : une analyse bibliographique centrée principalement sur les documents relatifs à la PAC et au programme de développement rural ; des entretiens ciblés sur des questions précises d'évaluation ; des simulations réalisées à partir des données du Réseau d'Information Comptable Agricole (RICA). Ce rapport a été réalisé dans le cadre d'une démarche d'évaluation plus globale (à l'échelle européenne) dirigée par le LEI (Institut néerlandais de Recherche en Economie Agricole) pour la Direction Générale de l'Agriculture et du Développement Rural de la Commission européenne. Ce rapport propose également une analyse du dispositif de modulation appliquée en France en 2000 et 2001 (article 4 du règlement CE n°1259/1999) et des propositions faites le 20 mai 2008, dans le cadre du bilan de santé de la PAC, par la Commission européenne.
Fichier principal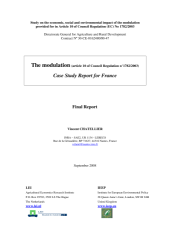 Chatellier-2009-The modulation of direct payments.Case Study Report for France_1.pdf (909.37 Ko)
Télécharger le fichier
Origin : Publisher files allowed on an open archive