Location of population-based services in France
The objective of this paper is to analyze the spatial distribution of employment in population-based services as well as their location factors at the functional economic area scale. Two main categories of explanatory factors are studied using statistical methods: market potential and the propensity to consume locally. Estimating tourism employment adds attractiveness and access to facilities as complementary location factors of services across space. Results identify structural factors related to local demand and the most favorable regional conditions for the development of population-based employment.
Cette communication a pour objectif d'analyser la distribution spatiale des activités de services destinés à la population ainsi que les facteurs d'hétérogénéité spatiale de la densité des emplois relevant de ces secteurs, examinée à l'échelle des bassins de vie. Deux grandes catégories de facteurs explicatifs sont examinées en mobilisant des méthodes statistiques : l'effet du potentiel de marché et la propension à consommer localement. L'estimation des emplois relevant du tourisme permet de prendre en compte la dynamique des services attachée à l'attractivité et à l'équipement des différents espaces. La communication débouche, d'une part, sur l'identification des facteurs structurels relevant de la demande locale et, d'autre part, sur la mise en évidence des configurations territoriales les plus propices au développement de l'emploi résidentiel.
Fichier principal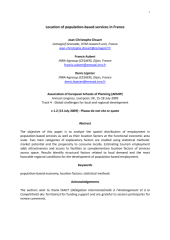 43762_20110322050801489_1.pdf (336.89 Ko)
Télécharger le fichier
43762_20110322051115191_2.pdf (414.5 Ko)
Télécharger le fichier
Origin : Publisher files allowed on an open archive
Origin : Publisher files allowed on an open archive