A "silent" agroecology: the significance of unrecognized sociotechnical changes made by French farmers
AbstractAgroecology has been a focus of intense debate in France since 2012, when the idea was explicitly adopted as a national policy objective by the Ministry of Agriculture. This article intervenes in this debate by documenting and describing an under-recognized, "silent" agroecology practiced by conventional farmers contending with a variety of threats—economic, technical, and climatic—to their farming systems. Inspired by the sociology of development, the research summarized here shows how these farmers have relied on peer-to-peer cooperation, and specifically on formal equipment-sharing arrangements, to develop a range of practices allowing for the ecological improvement of their farming systems. These farmers make few claims with regard to the environmental benefits of their innovations, however: instead, they emphasize their desire for improved farm autonomy. Out of respect for the social and professional dynamics within which they operate, moreover, these farmers tend to avoid ecological terms and topics in their peer-to-peer conversations. This "silence" is reinforced by the statistical tools used to report on French agriculture, which make little note of such farmers' activities, effectively excluding these practices from assessments of the ecologization of French agriculture. Finally, given the challenges these farmers face in locating necessary resources elsewhere in the agrifood sector (suppliers, research and development, markets), the ecological benefits of these new practices are not always fully realized. Nevertheless, the scale and significance of this silent agroecology—the conditions for which are also present in other Western countries—suggest an urgent need to reorient public policy frameworks to better support the agroecological transition.
Alors que l'agroécologie est fortement débattue depuis 2012 en France, cet article révèle et caractérise une agroécologie silencieuse et peu visible parmi les agriculteurs conventionnels, à partir d'études de Cuma (Coopérative d'utilisation de matériel agricole). Notre recherche, inspirée par la sociologie du développement, montre des agriculteurs fragilisés développant des pratiques contribuant à l'amélioration écologique partielle de leurs systèmes agricoles, grâce à la coopération entre pairs. Ils engagent ces changements avant tout pour gagner en autonomie, d'où leur faible argumentation des bénéfices environnementaux obtenus. Celle-ci est accentuée par leur évitement des termes de l'écologie et des débats sur ce sujet entre pairs, en raison des logiques sociales à l'œuvre dans leurs collectifs professionnels. Ce silence est renforcé par les outils publics de recensement agricole accordant peu d'attention à leurs pratiques individuelles et collectives, dont les enseignements ne nourrissent pas les débats actuels sur l'écologisation des agricultures. Or, les performances écologiques contrastées de leurs nouvelles pratiques révèlent les difficultés qu'ils rencontrent, faute de ressources appropriées de la part des autres opérateurs du secteur (fournisseurs, recherche-développement, entreprises d'aval). Les dimensions de cette agroécologie silencieuse, plus largement observables dans les pays occidentaux, appellent à une réorientation des politiques publiques concernées pour améliorer les conditions de transition agroécologique.
Fichier principal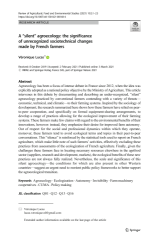 41130_2021_Article_140.pdf (440.82 Ko)
Télécharger le fichier
2021 Vlucas Article SilentAE RAFE en V°Fr.pdf (439.78 Ko)
Télécharger le fichier
Origin : Publication funded by an institution