Rôle des transporteurs de sucres tonoplastiques de type SWEET dans le développement du xylème chez Arabidopsis thaliana
Plant sugars, produced during photosynthesis, are transported at intercellular and intracellular levels by numerous proteins. Among these transporters, it was previously shown that the sugar transport between cytosol and vacuole, mediated by both SWEET16 and SWEET17, is important for the vascular system development in Arabidopsis thaliana. In this species, 3 tonoplastic sugar transporters have been identified so far: SWEET2, SWEET16 and SWEET17. The goal of this internship was to go deeper into the role of the tonoplastic sugar transporters in the vascular system development of the Arabidopsis inflorescence stem. To do this, I studied lines mutated in the expression of genes coding for the SWEET2, SWEET16 and/or SWEET17 transporters. First, our results show that SWEET2 is expressed in the interfascicular fibres, in the phloem and the xylem. Then, we show that the different mutant lines accumulate soluble sugars in the inflorescence stem. The results also suggest that the homodimer SWEET17/SWEET17 and the heterodimers SWEET2/SWEET17 and SWEET16/SWEET17 are needed for the correct development of the interfascicular fibres and the xylem tissue. Finally, the results obtained on the triple mutant suggest possible functional complementation by other members of the SWEET family, yet to identify.
Les sucres, produits lors de la photosynthèse, sont transportés au niveau intercellulaire et intracellulaire par de nombreuses protéines. Parmi ces transporteurs, il a notamment été montré que le transport des sucres entre la vacuole et le cytosol, médiés par les transporteurs SWEET16 et SWEET17, a un rôle important dans le développement du système vasculaire chez Arabidopsis thaliana. Chez cette espèce, trois transporteurs tonoplastiques ont été décrit jusqu'à présent : SWEET2, SWEET16 et SWEET17. Le but de ce stage était donc d'approfondir le rôle des transporteurs de sucres tonoplastiques dans le développement du système vasculaire de la hampe florale chez Arabidopsis thaliana. Pour se faire, j'ai analysé des lignées simplement, doublement et triplement mutées dans les gènes codant pour ces trois transporteurs. Tout d'abord, les résultats montrent que le transporteur SWEET2 s'exprime dans les fibres interfasciculaires, le phloème et le xylème. De plus, les différents mutants accumulent globalement plus de sucres solubles dans la hampe florale que le type sauvage. Les résultats suggèrent également que l'homodimère SWEET17/SWEET17 et les hétérodimères SWEET2/SWEET17 et SWEET16/SWEET17 sont nécessaires pour un développement correct des fibres interfasciculaires et des pôles de xylème. Finalement les résultats obtenus par l'analyse du triple mutant swt2swt16swt17 montrent l'existence d'une possible compensation fonctionnelle par d'autres membres de la famille SWEET, qui restent à identifier.
Fichier principal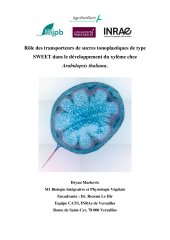 Rapport de stage-Deyan_corrRozenn.pdf (776.08 Ko)
Télécharger le fichier
Origin : Files produced by the author(s)