Conception d'une table de mesure du micro relief et de végétation
Micro-relief can influence the germination of seeds and the survival of the seedlings of certain plant species. In the framework of studying population dynamics, seed germination and seedling survival constitute the most vulnerable step of species regeneration. Soil humidity, a vital component of this process, can vary according to the heterogeneity of the microtopography. The surrounding vegetation can also impact the installation of new seedlings. Therefore, it is important to characterise the environment on a fine scale ranging from the seed to the scale of a quadrant of 1 m² during the juvenile phase. This led joint research unit 1391 ISPA (INRAE-Bordeaux Sciences Agro) to design a multifunction table combining the measurement of the micro-relief and vegetation in a square meter. This article presents the procedures employed to produce this measurement table and examples of its utilisation.
Le micro relief peut influencer la germination des graines et la survie des plantules de certaines espèces végétales. Dans le cadre de l'étude de la dynamique des populations, la germination des graines et la survie des plantules est l'étape la plus vulnérable de la régénération des espèces. L'humidité du sol, facteur indispensable à ce processus, peut varier selon l'hétérogénéité de la microtopographie. La végétation environnante peut également impacter l'installation de nouvelles plantules. Il est donc important de pouvoir caractériser l'environnement à une échelle fine allant de la graine à l'échelle du quadrat de 1 m² durant la phase juvénile. Ceci a conduit à la conception d'une table multi fonction combinant la mesure du micro relief et de la végétation sur un mètre carré. Cet article présente ses schémas de fabrication ainsi que des exemples de son utilisation.
Fichier principal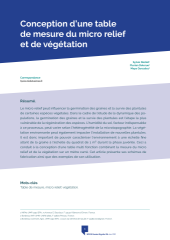 Art6-2022_Niollet.pdf (1 Mo)
Télécharger le fichier
Origin : Files produced by the author(s)