Revegetation practices in alpine areas and the establishment of an industry subsector for local seeds.
Pratiques de revégétalisation de milieux ouverts et perspectives pour la constitution d'une filière de semences d'origine locale en montagne alpine.
Landscape modification and construction in high-altitude, open environments destroy vegetative cover, necessitating revegetation operations. Generally, such operations employ seed mixtures that are not composed of locally sourced seeds; non-local seeds are poorly adapted to bioclimatic conditions in the alpine zone and their use leads to a decline in biodiversity. Consequently, stakeholders interested in research and restoration in these areas have been working on a project, Sem'lesAlpes, intended to promote the use of seeds of local origin. The project has helped establish a seed production subsector focused on local seeds. A study was carried out in tandem that identified specific needs for seeds, characterised current revegetation practices, and explored how these practices could do a better job of incorporating local seeds.
Les milieux ouverts d'altitude font l'objet de nombreux aménagements qui conduisent à la destruction des couverts végétaux et rendent nécessaires des opérations de revégétalisation. Les mélanges grainiers généralement semés sont d'origine non locale, peu adaptés aux conditions bioclimatiques de montagne, et entraînent une érosion de biodiversité. A partir de ce constat, des acteurs de la recherche et de la restauration ont travaillé au développement de l'utilisation de semences d'origine locale. Le projet Sem'lesAlpes s'est ainsi attaché à accompagner la constitution d'une filière de semences locales. Dans ce cadre, une étude a été menée afin d'identifier les besoins en semences, de caractériser les pratiques actuelles de revégétalisation et de comprendre dans quelle mesure elles peuvent évoluer vers la généralisation des semences d'origine locale en restauration. Nous présentons ici les résultats de cette étude.
Fichier principal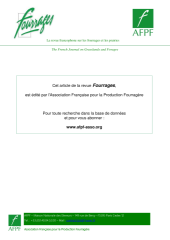 f236-dupre-3262.pdf (372.97 Ko)
Télécharger le fichier
Origin : Publisher files allowed on an open archive