Recherche d'activités antimicrobiennes et herbicides chez des bactéries du microbiome de la truffe
The Tuber melanosporum development is associated with the production of an area without vegetation (referred to the French word "brûlé") around the symbiotic plant. The BioTruf project is looking for new antimicrobial and herbicide compounds naturally produced by micro-organisms, which could limit the use of chemicals products. Antibiosis tests with the "soft agar overlay" method with six bio-indicators strains and phytotoxicity tests on Arabidopsis thaliana were performed on 147 bacteria from soil and truffles to a semi-high screening. Diversity by cultural approach (5 phyla, 20 genuses) showed a difference between soil and truffle, as found in literature. The antimicrobial production seems to be more important by strains from soil (genus Bacillus and Streptomyces, producers of antibiotic compounds according to literature) rather than strains from truffles (genus Bosea and Pseudomonas). No herbicide effect has been observed on Ararabidopsis thaliana, but an effect on the root density has been showed : 10% of tested strains had a phytotoxic effect and 60% a phytobeneficial effect. These results are very preliminary and additional experiments will be necessary to confirm definitively.
Le développement de Tuber melanosporum est associé à une zone appelée « brûlé », caractérisée par la disparition de l'essentiel de la végétation aux pieds des arbres hôtes. Le projet BioTruf cherche de nouvelles molécules antimicrobiennes et herbicides produites par des micro-organismes, ce qui permettrait de limiter l'utilisation de produits chimiques. Des tests d'antibiose avec la méthode « soft agar overlay » et des tests de phytotoxicité sur Arabidopsis thaliana avec six souches bio-indicatrices ont été réalisés sur 147 souches provenant du sol et de la truffe dans un objectif de criblage semi-haut débit. La diversité retrouvée par l'approche cultivable (5 phyla, 20 genres) montre une différence entre la truffe et le sol, retrouvée dans la littérature. La production de composés antimicrobiens semble être plus importante chez les souches issues du sol (genres Bacillus et Streptomyces, producteurs de composés antimicrobiens selon la littérature) que dans la truffe (genres Bosea et Pseudomonas). Aucun effet herbicide n'a été constaté sur Arabidopsis thaliana, mais un effet sur la densité racinaire a été observé : 10% des souches testées ont eu un effet phytotoxique et 60% ont eu un effet phytobénéfique. Ces résultats sont préliminaires et des expériences additionnelles seront nécessaires pour conclure définitivement.
Fichier principal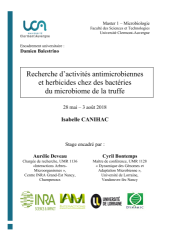 Rapport-M1-CANIHAC.pdf (7.3 Mo)
Télécharger le fichier
Origin : Files produced by the author(s)