Numération bactérienne en épifluorescence : mise en place d'une méthode automatique
This study tests the reliability of a technique for automatic counting. This method uses fixed samples that are subsequently coloured on a slide (DAPI colouring) and processed using the OPTILAB image analysis software. This study also enabled the changes in average cellular volume to be followed along a stretch of river in order to show any possible relationship between the size of the cells and the quality of the milieu in which they develop. It covered two sampling campaigns carried out in July and August 1993. The samples were taken from an 11 km stretch of the Charente River.
Cette étude teste la fiabilité d'une technique de comptage automatique. Cette méthode utilise des échantillons fixés puis colorés sur lame (coloration DAPI) et traités par le logiciel d'analyse d'image OPTILAB. Cette étude a également permis de suivre l'évolution des volumes cellulaires moyens le long d'un tronçon de rivière afin de mettre en évidence une éventuelle relation entre la taille des cellules et la qualité du milieu dans lequel elles se développent. Elle a porté sur deux campagnes de prélèvement menées en juillet et en août 1993. Les prélèvements ont été effectués sur un tronçon de la rivière Charente de 11 kilomètres.
Fichier principal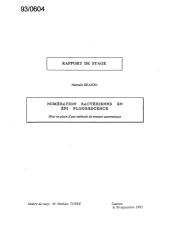 brajon.pdf (2.88 Mo)
Télécharger le fichier
Origin : Explicit agreement for this submission