Analyse typologique de la colonisation de différents étangs landais par des plantes exotiques : application à la gestion de ces plantes
Since more than twenty years, some exotic vegetal aquatic species overrun ponds of the Landes department. These plants are responsible of different constraints for uses as for tourist activities. This study presents the balance and the dynamic of colonieation by these plants in seven of those ponds, in the South of the department. Léon and Soustons ponds data were processed by statistical analysis to point out the exotic species relationships with indigen species and the environment. These analysis allows to define some indigen species as indicator of favourable or unfavourable environment to exotic species development and thus can contrbute to improve exotic species management.
Depuis plus de 20 ans, certaines espèces végétales aquatiques exotiques prolifèrent dans les plans d'eau du département des Landes, occasionnant différentes gênes pour les usages, notamment pour les activités touristiques. Cette étude présente un bilan de l'état et de la dynamique de la colonisation par ces plantes sur sept de ces plans d'eau, situés au Sud du département. Les étangs de Léon et Soustons ont fait de plus l'objet d'une analyse multidimensionnelle (Analyse Factorielle des Correspondances) dans le but de dégager les relations de ces espèces exotiques avec le milieu et les espèces indigènes. Cette analyse permet de définir certaines espèces indigènes comme indicatrices de milieu favorable ou défavorable au développement des espèces exotiques, et peut ainsi contribuer à améliorer la gestion de ces espèces.
Fichier principal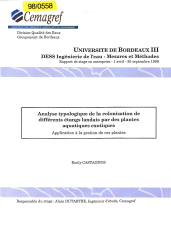 castagnos.pdf (16.61 Mo)
Télécharger le fichier
Origin : Explicit agreement for this submission