Dynamique de développement de Ludwigia SPP
Two introduced species of Ludwigia pose problems of management in the south of France. To improve its management it is necessary to know the plant development dynamics. Two experiments were carried out one in situ on different sites from the Poitevin Marsh to the south of Landes department, the other in mesocosm. They permitted us to quantify its development under various conditions and to determine its probable growth strategy. The results show that Ludwigia spp seems limited by current and water characterised by low phosphorus and nitrogen concentrations. In addition the plant growth strategy seems to be mainly linked to the light. The plant starts by developing in height in order to reach the water surface. Then it develops at the surface using its ramifications. At the end, when the biomass becomes dense, the plants develop above the water level.
Deux espèces de Ludwigia introduites posent des problèmes de gestion dans le sud de la France. Connaître la dynamique de développement de ces plantes est nécessaire pour en améliorer la gestion. Deux expérimentations ont été mises en place, l'une in situ sur différents sites entre le Marais Poitevin et le sud des Landes, l'autre ex situ en mésocosmes. Elles nous ont permis de quantifier son développement dans différentes conditions et de déterminer sa stratégie probable de croissance. Ainsi, Ludwigia spp semble limité par le courant et des eaux pauvres en phosphore et azote minéral dissous. D'autre part la stratégie de croissance de la plante semble être principalement fonction de la lumière. La plante commence par se développer en hauteur afin d'atteindre la surface de l'eau. Puis elle se développe à la surface à l'aide de ses ramifications. Quand les herbiers sont denses, les plantes se développent au-dessus de la surface de l'eau.
Fichier principal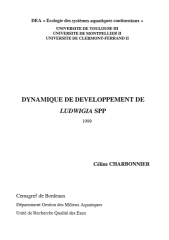 charbonnier.pdf (4.2 Mo)
Télécharger le fichier
Origin : Explicit agreement for this submission