Exploration des défis, stratégies et perspectives d'adaptation au changement climatique des maraîchers biologiques d'Île-de-France
Over the past few years, climate change increasingly impacted organic market gardening in the Paris region. The extreme climate events such as droughts and heat waves result in a lower quality and vegetable yield. Market gardeners are thereby concerned about the future of their production and the sustainability of their farms. In this context, the GAB Île-de-France, in partnership with INRAE, propose to identify the adaptation strategies to climate change. The aims of this study are to determine the specific actions to be undertaken, and to assess the opportunities to be explored in terms of trial and knowledge-sharing. On conclusion of the qualitative research lead on organic vegetable farms, a range of agronomic, technical, and economical solutions have been identified. The investigation has identified priorities for the future, based on training and experiment with and for the organic gardeners.
Depuis ces dernières années, le changement climatique impacte de plus en plus le maraîchage biologique francilien. Les évènements climatiques extrêmes, tels que les sècheresses et les canicules, entraînent une diminution de la qualité et du rendement des légumes. De fait, les maraîchers s'inquiètent de l'avenir de leur production et de la pérennité de leurs exploitations. Dans ce contexte, le GAB Île-de-France, en partenariat avec INRAE, proposent d'identifier les stratégies et leviers d'adaptation envisageables face au changement climatique. L'objectif de cette étude est d'identifier les actions concrètes à mettre en oeuvre et les perspectives à explorer en matière d'expérimentation et de diffusion des connaissances. A l'issue d'une étude qualitative menée sur les fermes franciliennes, un panel de stratégies agronomiques, techniques et économiques ont été identifiées. L'enquête a permis de définir des priorités d'action pour le futur, basées sur la formation et l'expérimentation avec et pour les maraîchers.
Fichier principal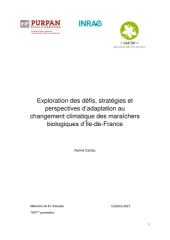 CARTAU-KARINE-MEMOIRE.pdf (2.37 Mo)
Télécharger le fichier
Origin : Files produced by the author(s)