Gestion des punaises phytophages en cultures maraîchères - Le projet IMPULsE à l'heure du bilan
The IMPULsE project, that began in 2017, will end at the end of this year (2020). Several methods have been evaluated on tomato, eggplant and cabbage for the management of plant-feeding bugs. In addition, important work has been carried out to characterize plant bugs belonging to the Lygus and Eurydema genera in order to better understand these very problematic pests on the aforementioned crops. At this stage, management methods based on physical protection (nets, sticky chromatic traps) and biological control (parasitoid and entomophagous beneficials, entomopathogenic nematodes) give the most promising results in protected tomato and eggplant crops. Those based on functional biodiversity (use of trap plants) also show a promise in cabbage bug management in the field. However, these different strategies need to be refined within the framework of future projects.
Débuté en 2017, le projet IMPULsE arrive à échéance a l'issue de cette année 2020. Plusieurs méthodes ont été évaluées sur tomate, aubergine et chou pour la gestion des punaises phytophages. De plus, un travail important de caractérisation des punaises appartenant au genre Lygus et au genre Eurydema a été réalisé afin de mieux connaitre ces ravageurs très problématiques sur ces cultures. A ce stade, les méthodes de gestion basées sur la protection physique (filet, pièges chromatiques englues) et la lutte biologique (auxiliaires parasitoïdes et entomophages, nématodes entomopathogènes) donnent les résultats les plus intéressants, en cultures de tomate et d'aubergine sous abri. Celles établies sur la biodiversité fonctionnelle (utilisation de plantes pièges) montrent également un réel intérêt pour la gestion de la punaise du chou en plein champ. Ces différentes stratégies restent néanmoins à affiner dans le cadre de prochains projets.
Fichier principal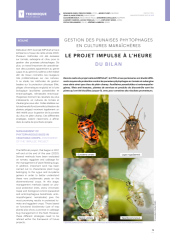 LE PROJET IMPULSE À L HEURE DU BILAN.pdf (961.48 Ko)
Télécharger le fichier
Origin : Files produced by the author(s)