Herbicide-tolerant plant varieties: Agronomic, environmental and socio-economic effects. Summary
Les variétés végétales tolérantes aux herbicides.
Weed control in crop fields constitutes a major factor in determining agricultural yields. This fact explains the importance of synthetic herbicides in agriculture since their introduction in the years following World War II. The principle of chemical weed control is to apply a product that selectively eliminates weeds without affecting the crop itself. Over the past fifteen years, in parallel with research into new selective herbicide molecules, a complementary approach has been developed: the selection of crop plant varieties tolerant to existing herbicidal substances. This herbicide tolerance permits the coupled utilization of a plant variety and its associated herbicide (or family of herbicides), which is thus applied 'post-emergence', that is to say, to already developed crop and weed plants in the field.
Fichier principal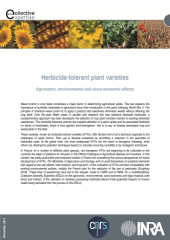 ESCo-VTH-8p-anglais.pdf (230.4 Ko)
Télécharger le fichier
Origin : Files produced by the author(s)