Perspective for soil inventory and monitoring in France: Which data are needed? How better to acquire them, to diffuse and use them?
¿QUÉ PERSPECTIVAS CIENTÍFICAS Y TÉCNICAS PARA EL INVENTARIO Y LA VIGILANCIA DE LOS SUELOS EN FRANCIA: Qué necesidades de datos, cómo adquirirlos mejor, difundirlos, utilizarlos?
Quelles perspectives scientifiques et techniques pour l'inventaire et la surveillance des sols en France : Quels besoins en données, comment mieux les acquérir, les diffuser, les utiliser ?
The objective of the « Groupement d'intérêt scientifique Sol » (GIS Sol) is to design and coordinate soil inventory and monitoring actions, to develop and manage an information system on soils and their contribution to ecosystem services. On December 6th of 2021, it celebrated its 20th anniversary, an opportunity to take stock and outline prospects, while soils are arising on the agendas of international, European and national policies, and more data and indicators are required for soil inventory, monitoring and management. This article is composed of three parts: the first one develops an analysis of the social needs expressed during an online survey widely distributed between September and February 2022 and which collected 203 responses; the second one presents the needs expressed during a round table of actors of soil management which took place during GIS Sol's 20th anniversary day; the third one outlines scientific and technical prospects discussed that day and coming from the scientific literature. These perspectives do not commit GIS Sol as its decisions are the responsibility of its governance bodies. The GIS Sol appears at a crossroad, combining more or less different ways: to remain in its core business because of weak resources; to open up to new challenges, particularly on human health or soil biodiversity, on new technologies such as remote sensing; to act as a national observatory which collects and unifies data coming from different frameworks such as territorial declination of public policies or from different approaches such as citizen science.
El Grupo de Interés Científico Suelo (GIS Sol) tiene por misión diseñar y coordinar acciones de inventario de los suelos y de seguimiento de sus cualidades, desarrollar y gestionar un sistema de información sobre los suelos y los servicios ecosistémicos a los que contribuyen. El 6 de diciembre de 2021, el GIS Sol celebró su 20º aniversario, ocasión para hacer balance y esbozar perspectivas científicas y técnicas, mientras que las cuestiones relacionadas con los suelos ocupan un lugar creciente en la agenda de las políticas internacionales, europeas y nacionales, esto se traduce en una gran demanda de datos e indicadores. Este artículo tiene tres partes: la primera analiza las necesidades expresadas en una encuesta en línea ampliamente difundida entre septiembre de 2021 y febrero de 2022 y que recogió 203 respuestas; la segunda menciona las necesidades expresadas en una mesa redonda de actores de la gestión de los suelos que tuvo lugar el día de los 20 años del GIS Sol; una tercera esboza perspectivas científicas y técnicas para el inventario y la vigilancia de los suelos, estas derivan tanto de este día como del estado del arte científico. Estas perspectivas no comprometen al GIS Sol; tienen vocación de ayudarle en sus reflexiones, sus decisiones dependen de sus instancias de gobernanza. Varias opciones, posiblemente en combinación, se abren al GIS Sol para los próximos años: permanecer en su núcleo de actividad mientras sus medios son frágiles; invertir nuevos retos, en particular de salud humana, y movilizar nuevas tecnologías, como la teledetección; adoptar una postura de observatorio y reunir los datos recogidos en diferentes contextos (variaciones territoriales de las políticas públicas) y mediante diferentes enfoques (ciencia e investigación participativas).
Le groupement d'intérêt scientifique Sol (GIS Sol) a pour mission de concevoir et coordonner des actions d'inventaire des sols et de suivi de leurs qualités, de développer et gérer un système d'information sur les sols et les services écosystémiques auxquels ils contribuent. Le 6 décembre 2021, le GIS Sol fêtait ses 20 ans, l'occasion de dresser un bilan et d'esquisser des perspectives scientifiques et techniques, alors que les questions liées aux sols prennent une place croissante dans l'agenda des politiques internationales, européennes et nationales, cela se traduisant par une demande en forte hausse de données et d'indicateurs. Cet article comporte trois parties : la première analyse les besoins exprimés à l'occasion d'une enquête en ligne largement diffusée entre septembre 2021 et février 2022 et qui a collecté 203 réponses ; la seconde rapporte les besoins exprimés lors d'une table ronde d'acteurs de la gestion des sols qui a eu lieu lors de la journée des 20 ans du GIS Sol ; une troisième esquisse des perspectives scientifiques et techniques pour l'inventaire et la surveillance des sols, celles-ci découlant autant de cette journée que de l'état de l'art scientifique. Ces perspectives n'engagent pas le GIS Sol ; elles ont vocation à l'aider dans ses réflexions, ses décisions relevant de ses instances de gouvernance. Plusieurs options, éventuellement en combinaison, s'ouvrent au GIS Sol pour les prochaines années : rester dans son coeur de métier alors que ses moyens sont fragiles ; investir de nouveaux enjeux, en particulier de santé humaine, et mobiliser de nouvelles technologies, comme la télédétection ; adopter une posture d'observatoire et rassembler les données collectées dans différents cadres (déclinaisons territoriales des politiques publiques) et par différentes approches (sciences et recherche participatives).
Fichier principal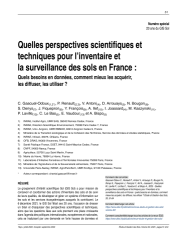 EGS_2023_30_Gascuel_51-64.pdf (1.41 Mo)
Télécharger le fichier
Origin : Publisher files allowed on an open archive