Etude de l'écosystème prairial visant à réduire et séquestrer les gaz à effets de serres
The increasing greenhouse gas production is a real threat which requires urging solutions. As the effect of climate change become more and more violent many initiatives are launched in order to find ways to reduce these greenhouse gas. Many binstitutes of research are now working on it. This is the case of UREP, in particular the research engineer K. KLUMPP, whose work supports scientific approaches such as the 4P1000 (4‰). The initiative aiming to show that agriculture, and in particular agricultural soils, can play a crucial role for food security and climate change, by increasing the amounts of carbon stored in soils by 0.4% of soil carbon stocks, or 4‰ per year. UREP studies the agroecology of the grassland ecosystem in a context of global change, including climate change and management practices. This implies a detailed understanding of the mechanisms and interactions within this ecosystem in order to derive a better understanding of mechanisms and processes, including those related to the soil carbon storage capacity. This will be done by following the ongoing work of Katja KLUMPP.
La gestion des GES (Gaz à Effet de Serres) est une problématique qui s'impose actuellement de manière urgente. Le constat du dérèglement climatique n'est plus à faire et de nombreuse initiatives sont lancé pour trouver des leviers de réductions de ces gaz. De nombreux instituts orientent leurs recherches afin d'élaborer des stratégies de réduction et/ou de séquestration des GES. C'est le cas de l'UREP, en tous particulier de l'ingénieur chercheur K. KLUMPP, dont les travaux viennent soutenir des démarches scientifiques tels que le 4P1000 (4‰). L'initiative qui vise à montrer que l'agriculture, et en particulier les sols agricoles, peuvent jouer un rôle crucial pour la sécurité alimentaire et le changement climatique, en augmentant les quantités de carbone stocker dans les sols de 0,4% des stocks de carbone du sol, ou 4‰ par an. L'UREP étudie l'agroécologie de l'écosystème prairial dans un contexte de changement global, notamment les changements climatiques et les pratiques de gestion. Cela implique une compréhension fine des mécanismes et interactions au sein de cette écosystème afin de pouvoir en tirer des mécanismes utilisables, dont celles en lien avec la capacité de stockage de carbone du sol. Ce rapport se propose de poser un regard sur ses mécanismes, comprendre leurs interactions et connexions, afin d'en émettre des hypothèses et des pistes de réflexion. Ce travail se fera en suivant les démarches et protocole déjà mis en place par K. KLUMPP.
Fichier principal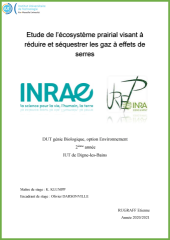 Rapport_RUGRAFF Etienne-2021.pdf (6.18 Mo)
Télécharger le fichier
Origin : Files produced by the author(s)