Does FILEG operate as a Mission-oriented Innovation System?
FILEG opère-t-elle comme un Système d'Innovation Responsable ?
The development of legumes is fundamental for healthy and sustainable agricultural and food systems. Regarding the multiple obstacles hindering their development in Europe, collective action is a major lever. We used the Mission-oriented Innovation Systems (MIS) and Resources Based View approaches to study the contribution of a formal network of actors, built in the Occitanie region, to the innovation dynamics of the legume sector. Our case study is FILEG, an association aiming to structure and sustainably develop the sector by bringing together regional actors from up and down stream. We conducted a document desk research, a questionnaire and semi-structured interviews with these actors to map the dynamic of network innovation. The results show that the actions of the association contributed to the MIS functions by following a certain order. Currently, the association can contribute, directly or indirectly, to all functions. Its actions, however, remain conditional on its ability to coordinate the deployment of available resources at the different levels (organization, network and system). The combination of the theoretical approaches used proved to be relevant for the study and enlightening for the association. A more in-depth analysis of the links between actors could strengthen the understanding on the dynamics of collective innovation structuring the FILEG network.
Le développement des légumineuses est fondamental pour des systèmes agricoles et alimentaires sains et durables. Face aux multiples verrous freinant leur développement en Europe, l'action collective est un levier majeur. Nous avons utilisé les approches des Systèmes d'Innovation Responsables (SIR) et Resources Based View pour étudier la contribution d'un réseau formel d'acteurs, construit en région Occitanie, à la dynamique d'innovation de la filière des légumineuses. Notre cas d'étude est l'association FILEG, qui a pour but la structuration et développement durable de la filière légumineuses, en fédérant les acteurs des différents maillons de la filière essentiellement en région. Nous avons mené une recherche documentaire, un questionnaire et des entretiens semi-directifs auprès de ces acteurs pour dresser un état des lieux de cette dynamique d'innovation collective. Les résultats montrent que les actions de l'association contribuent aux fonctions des SIR en suivant un certain séquençage. L'association peut contribuer, directement ou indirectement, à toutes les fonctions. Ses actions, néanmoins, restent conditionnées à sa capacité à coordonner le déploiement des ressources disponibles aux différents niveaux (organisation, réseau et système). La combinaison des approches théoriques mobilisées s'est montrée pertinente pour l'étude et éclairante pour l'association. Une analyse plus poussée des liens entre acteurs renforcerait la compréhension de la dynamique d'innovation collective structurant le réseau FILEG.
Fichier principal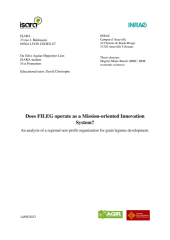 2023-Mémoire_da_Silva_Hippolyte.pdf (2.52 Mo)
Télécharger le fichier
Origin : Files produced by the author(s)