The role of evaluation devices in the creation of new institutions: breeding contracts under the "genomic" era in animal genetics
Le rôle des dispositifs d'évaluation dans la création de nouvelles institutions: les contrats en élevage à l'ère de la génomique en génétique animale.
In this paper, we first draw on existing literature to identify how the bridging of institutional theory and valuation studies can help us better understand current changes in the commoditization and government of life. Second, through an empirical study we open the black box of breeding contracts to detect what they can reveal about how new evaluation devices contribute to the evolution of the evaluated objects / subjects, and the institutionalization of new social and biological entities. Third, we discuss the outputs and limits of this very early step in our empirical analysis of animal genetic markets under the institutional disruptions associated with the "genomic era". We conclude by drawing some lines of inquiry for further research.
Fichier principal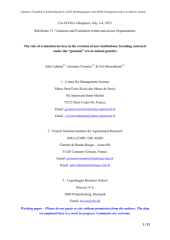 Draft_Labatut Tesniere Boxenbaum_01_07_15_EGOS2015.pdf (302.85 Ko)
Télécharger le fichier
Origin : Files produced by the author(s)