Reconciling services rendered by grassland in order to ensure the sustainability of grassland farming systems
Concilier les services rendus par les prairies pour assurer la durabilité des systèmes d'élevage herbagers.
Il est maintenant largement reconnu que les écosystèmes prairiaux rendent une large gamme de services, même s'ils ne sont pas toujours considérés à leur juste valeur. Cet article identifie les atouts des systèmes herbagers pour faire face aux enjeux actuels. En adoptant une approche multifonctionnelle, il devient possible de concilier bénéfices environnementaux et services de production. De plus, des opportunités nouvelles peuvent émerger en intégrant le rôle fonctionnel de la biodiversité dans le raisonnement des pratiques de gestion. Ainsi, l'élaboration d'un modèle de développement qui concilie les services de façon harmonieuse, est à construire. Une nouvelle expertise, multidisciplinaire et impliquant les acteurs du territoire et les bénéficiaires des services produits, devra être développée.
Fichier principal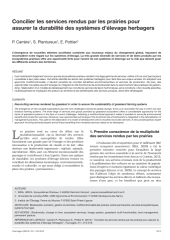 Concilier_les_services_rendus_1.pdf (187.89 Ko)
Télécharger le fichier
Origin : Files produced by the author(s)