Estimation of the average effects of specific alleles detected by the pseudo-testcross QTL mapping strategy
Détermination des effets moyens des allèles à un QTL spécifique détecté par la stratégie du pseudo-testcross.
In a full-sib progeny of a mating between heterozygous parents, the analysis of marker-trait associations using dominant RAPD (random amplified polymorphic DNA) markers allows the detection of specific quantitative trait loci (QTL) for each parent of the cross. Here we develop a method aimed at estimating the breeding value of such QTL alleles in the population, for the incorporation of marker-assisted selection in operational forest tree-breeding programs. The proposed methodology expands on the pseudo-testcross QTL mapping strategy which is based on the selection of single dose markers present in one parent and absent in the other. It specifically exploits the fact that one of the parents of the full-sib family is double null for the RAPD markers bracketing the QTL so that, by looking at its half-sib family, 'band present' allele frequencies of the two markers can be obtained at the population level. The half-sib family of the other parent, which is doubly heterozygous, is then used to estimate the average effect (ie, the additive effect) of the two QTL alleles.
Dans une famille de pleins-frères issue du croisement entre deux individus hétérozygotes, l'analyse des associations entre des marqueurs moléculaires dominants (RAPD, polymorphisme de l'ADN amplifié au hasard) et des caractères quantitatifs permet de détecter des locus impliqués dans l'expression des variations phénotypiques de caractères quantitatifs (QTL). Ces QTL sont spécifiques de chacun des parents du croisement. Nous développons ici un modèle permettant de déterminer la valeur générale des allèles au QTL au sein de la population, en vue d'une utilisation dans les programmes de sélection chez les arbres forestiers. La méthode proposée prolonge la localisation de QTL spécifiques par la stratégie du pseudo-testcross, basée sur la sélection de marqueurs à simple dose présents chez un parent et absents chez l'autre. Elle exploite le fait qu'un des deux parents de la famille de plein-frères est homozygote nul pour les deux marqueurs RAPD bordant le QTL. Ainsi, en observant l'une de ses descendances de demi-frères, il est possible d'estimer les fréquences dans la population des allèles codant pour la présence de bande RAPD. Une descendance de demi-frères issue de l'autre parent double hétérozygote aux marqueurs bordant le QTL est alors utilisée pour déterminer les effets moyens (additifs) des allèles au QTL.
Fichier principal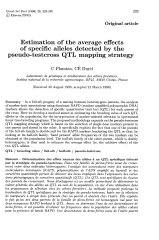 120754_20071011012452828_1.pdf (833.45 Ko)
Télécharger le fichier
Origin : Publisher files allowed on an open archive