Mise en évidence de fortes circulations verticales temporaires entre zones humides et aquifères alluviaux et régionaux
Tensiometric and piezometric values were recorded in an alluvial valley of the Seine wetland from February to November 1998. As a consequence of two flood events, the groundwater head once rose above the soil surface. When the water level in the Seine decreased, the vertical hydraulic gradient between the underlying Senonian chalk and the alluvia increased to 16 parts per thousand. During the few days of recession the alluvial wetlands were fed by an upward flow from the regional chalk aquifer and drained towards the river through a more permeable alluvial layer (1.5 m to 7 m below soil surface). ((C) Academie des sciences / Elsevier, Paris.).
Des mesures tensiométriques et piézométriques ont été effectuées de février à novembre 1998 sur une zone humide alluviale riveraine de la Seine moyenne. Pendant deux épisodes de crue, le niveau piézométrique a augmenté, jusqu'à dépasser la cote du sol pour l'un d'eux. En décrue, le gradient vertical de charge hydraulique entre la craie sous-jacente et les alluvions augmente jusqu'à des valeurs de 16 %o. Les alluvions et les zones humides associées sont ainsi alimentées per ascensum et drainées vers la rivière par un niveau perméable situé entre 1,5 m et 7 m de profondeur.
Fichier principal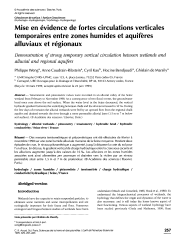 1999-Weng-Géosciences-Zh-aquif-alluv.pdf (575.27 Ko)
Télécharger le fichier
Origin : Publisher files allowed on an open archive