Programme de Recherche et d'Étude 2012-2016 « Diatomées des rivières de Nouvelle-Calédonie » : Conception d'un nouvel indice de bio-évaluation de la qualité écologique des cours d'eau à partir des diatomées benthiques (IDNC) Rapport final t.2 Annexes
The present document is Volume 2 of the IDNC Final Development Report (New Multi-Metric Index dedicated to the Ecological Assessment of New Caledonian watercourses from the species composition of the benthic diatom communities). Volume 2 constitutes a collation of useful annexes in addition to the content of the IDNC final report (reference cited above). It provides additional information on the study sites and their environmental conditions at the date of each sampling, on the methods of chemical analysis of water used by the laboratories, on the taxonomy and enumeration of the diatomic inventories of the study, on the biotypology of the local diatom communities, on the selection of alert taxa and their assignment to the IDNC alteration parameters, and finally on the IDNC assessment provided by each diatom sampling collected at one of the 74 study sites.
Le présent document est le Tome 2 du rapport final d'élaboration de l'IDNC (nouvel indice multimétrique dédié à l'évaluation écologique des cours d'eau de Nouvelle-Calédonie à partir de la composition des communautés de diatomées benthiques déterminée à l'espèce). Il contient un recueil des annexes utiles en complément du contenu du corps du rapport final IDNC (cf. référence pré-citée). Il donne des informations complémentaires sur les sites d'étude et leurs conditions mésologiques à la date de chaque prélèvement, sur les méthodes d'analyse chimique des eaux employées par les laboratoires, sur la taxonomie et les dénombrements des inventaires diatomiques de l'étude, sur la biotypologie des assemblages diatomiques locaux, sur la sélection des taxons d'alerte et leur affectation par paramètre d'altération de l'IDNC et enfin, sur l'évaluation produite par l'IDNC pour chaque relevé diatomique individuel collecté sur l'un des 74 sites d'étude.
Fichier principal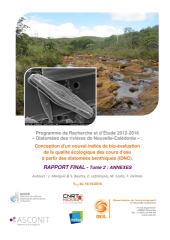 pub00056240.pdf (20.55 Mo)
Télécharger le fichier
Origin : Files produced by the author(s)