What does New Public Management do to environmental policies?
Que fait le New Public Management aux politiques environnementales ?
What is the relationship between environmental policies and New Public Management? More specifically, to what extent are these policies currently structured by neo-managerial reforms and principles? These questions provide the common thread running through this special issue, which brings together four original contribution on the French case. In this introductory article, we first propose an overview of New Public Management and environmental policies in France, before briefly reviewing the literature on the effects of New Public Management on environmental policies. We then present the main contributions of the texts that make up this volume. Finally, we bring some elements of reflection on what the New Public Management changes to environmental policies.
Quels rapports les politiques environnementales entretiennent-elles avec le New Public Management ? Plus précisément, en quoi ces politiques sont-elles désormais structurées par les réformes et les principes néo-managériaux ? La question constitue le fil rouge de ce numéro spécial, qui rassemble quatre contributions originales sur le cas français. Dans cet article introductif, nous dressons un panorama du New Public Management et des politiques environnementales en France, avant de passer en revue la littérature sur les effets du New Public Management sur les politiques environnementales. Nous présentons ensuite les principaux apports des textes qui constituent ce volume. Nous apportons enfin quelques éléments de réflexion sur ce que change le New Public Management aux politiques environnementales.
Fichier principal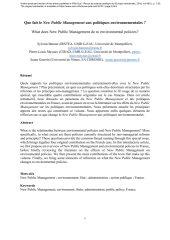 pub00057839.pdf (875.7 Ko)
Télécharger le fichier
Origin : Files produced by the author(s)