Matheysine : mountains of milk ? The history of milk production in Matheysine since the 30s until today.
La Matheysine : des montagnes de lait ? L'histoire laitière de la Matheysine des années 30 à aujourd'hui.
L'article retrace et analyse l'histoire de la filière lait de vache dans la Matheysine, bassin laitier de moyenne montagne du sud de l'Isère, dans les Alpes françaises. La Matheysine s'est spécialisée sur la production de lait "non différencié" et le secteur laitier s'y trouve particulièrement fragilisé depuis la suppression des quotas laitiers en 2015. En s'appuyant sur une approche processuelle, l'histoire laitière de la Matheysine a été reconstituée avec le concours d'acteurs locaux, notamment des producteurs laitiers, dans le cadre d'un projet de recherche-action. La "frise historique" obtenue met en évidence plusieurs séquences dans l'histoire laitière du territoire. Elle fait ressortir différents éléments de contexte, intérieur ou extérieur au territoire, ayant influé sur cette histoire. L'article conclut sur certaines solutions pouvant contribuer à la survie de la production laitière de ce territoire, comme le développement du lait bio.
Fichier principal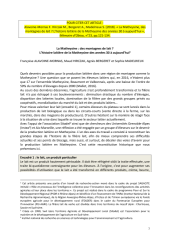 Article Mémoire d'Obiou-version finale.pdf (1001.15 Ko)
Télécharger le fichier
Origin : Files produced by the author(s)
Licence : CC BY - Attribution