Agricultural innovative practices and the supply chain of agricultural cooperatives. An ex-ante study of the acceptability of durum wheat - grain legumes intercrops.
Pratiques agricoles innovantes et logistique des coopératives agricoles.
The diffusion of innovations in agricultural practices raises the question of their acceptability within the supply chain. The aim of this article is to assess ex ante the characteristics of the logistics of agricultural cooperatives, likely to promote the adoption of new practices, such as durum wheatlegumes intercropping systems. It is based on a survey of the logistics of agricultural cooperatives which collect and store durum wheat in the Midi-Pyrenees region. The assumption is that the actors of the supply chains called "conventional" could accept those new practices according to their leeway to change their system. This study reveals that the cooperatives indicating that their logistics would be a priori compatible with these new practices are also those oriented towards quality management. These cooperatives present a specific set of skills facilitating adaptation to a greater diversity of cultures, allowing us to qualify their logistical organization as more resilient.
La diffusion de pratiques agricoles innovantes pose la question de leur acceptabilité au sein des filières. Cet article vise à évaluer ex ante les caractéristiques logistiques des coopératives agricoles susceptibles de favoriser l'adoption de ces pratiques et en particulier les cultures associées blé dur légumineuses. Il s'appuie sur une enquête de l'organisation logistique des coopératives agricoles, collectant et stockant du blé dur en Midi-Pyrénées. L'hypothèse posée est que les acteurs des filières peuvent être plus ou moins réceptifs à ces nouvelles pratiques selon les marges de manœuvre dont ils disposent pour faire évoluer leurs systèmes. Il ressort de cette étude que les coopératives indiquant que leur logistique serait a priori compatible avec ces nouvelles pratiques, sont aussi celles orientées vers une gestion par la qualité. Ces coopératives dotées de moyens spécifiques et d'un ensemble de compétences favorisant l'adaptation à une plus grande diversité de cultures présentent des capacités de résilience plus importantes.
Fichier principal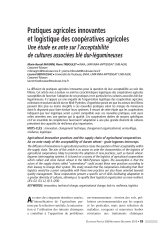 Article_006_2013_Economie_Rurale_338_25-45.pdf (371.82 Ko)
Télécharger le fichier
Origin : Publisher files allowed on an open archive
Licence : CC BY NC - Attribution - NonCommercial