La processionnaire du pin : des exemples de gestion utilisant les techniques de biocontrôle
Pine processionary moth is a real public health problems. Many studies are still extensively done by INRA to develop control strategies respecting the environment. The results of the mass trapping for adult males, obtained by the partner cities of Alterpro project, have shown at national level, a reduction of the population in 70% of the experimental sites. In the remaining 30%, the causes of failures are analyzed. Other sites, located in a protected environment with two large sites 70 and 51 hectares regularly infested by pine processionary, were used as pilot sites to test the mass trapping of adults and the biological control promoting nesting tits. In each of these sites, the pine processionary moth is maintained at a tolerable level for more than five years in some cases. The protocol and results will be presented, as well as adaptations of the device according to the level of populations, to improve the protection of users against these stinging caterpillars.
La processionnaire du pin pose de réels problèmes de santé publique. Elle fait l'objet encore à ce jour, de nombreuses études de l'INRA afin d'élaborer des stratégies de lutte respectueuses de l'environnement. Les résultats de piégeage de masse des adultes mâles obtenus par les villes partenaires du projet Alterpro au niveau national révèlent une réduction des populations dans 70% des sites expérimentaux et pour les 30% restants, les causes d'échecs sont analysées. D'autres sites installés en milieu protégé, dont 2 grands sites de 70 et de 51 hectares, faisant l'objet d'infestations régulières par la processionnaire du pin, ont servi de sites pilotes pour tester le piégeage de masse des adultes et la lutte biologique en favorisant la nidification des mésanges. Dans chacun de ces sites, la processionnaire du pin est maintenue à un niveau tolérable depuis plus de cinq années pour certains. Le protocole et les résultats seront présentés, ainsi que les adaptations du dispositif en fonction des niveaux de populations afin de mieux protéger les usagers contre ces chenilles urticantes.
Fichier principal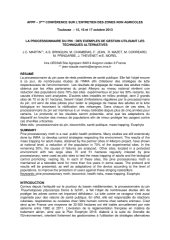 2013 Martin INRA ZNA_Toulouse texte complet vdef_1.pdf (566.47 Ko)
Télécharger le fichier
Origin : Files produced by the author(s)