Test des applications liées à ArcGis online pour la collecte de données pédologiques sur le terrain en lien avec la base de données DoneSol
The aim of this internship is to find a way to collect data in the field and send them directly to the DoneSol database. This simplifies the collection of data and their insertion into a database. To do this, there are two main software programs, "Qfield" which works with "Qgis" and "Survey123 connect" which works under the "Esri" software. During this internship, the chosen software is "Survey123 connect" to create a form and retrieve the data, then format them and include them in the given database. In addition, thanks to Solenvie, a research office in Aquitaine, we were able to access a form from «Qfield» and thus compare the two applications.
Le but de ce stage est de trouver un moyen de collecter des données sur le terrain et de les envoyer directement dans la base de données DoneSol. Cela permet de simplifier la collecte de données et leur insertion dans une base de données. Pour cela il existe deux logiciels principaux, « Qfield » qui fonctionne avec la licence « Qgis » et « Survey123 connect » qui fonctionne sous la suite logiciel « Esri ». Lors de ce stage, le logiciel retenu est « Survey123 connect » afin de créer un formulaire et de récupérer les données, puis de les formater et les inclure dans la base donnée. De plus, grâce à Solenvie, un bureau de recherche d'Aquitaine, nous avons pu accéder à un formulaire issu de « Qfield » et donc comparer les deux applications.
Fichier principal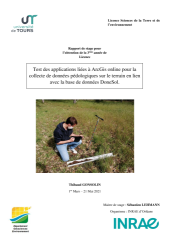 Rapport stage L3 Gonsolin Thibaud .pdf (1.95 Mo)
Télécharger le fichier
Origin : Files produced by the author(s)