Diagnosis of hydraulic networks, SWOT analysis and future prospects of the Neste canal system, operated by the CACG company under a concession contract with the French government. Executive summaries.
État des lieux, Analyse AFOM et perspectives d'évolution des concessions hydrauliques d'État en gestion CACG. Résumés exécutifs
This report contains the executive summaries of the diagnosis (part 1), the stakeholders points on the views and the perspectives (part 2) of the State concessions of the Neste system. This audit was commissioned from Irstea by the Ministry of Agriculture, with a view to their transfer to the Occitania and New Aquitaine Regions. It is completed by a Strengths-Weaknesses-Opportunities Analysis (SWOT) of the management of this complex hydraulic system. The main challenge for the sustainability of this system is to reform its economic model. This must include a thorough review of the pricing system for the uses of the water (agriculture, raw water for drinking water and industry) which contribute to the system's operating and maintenance revenue. It should also include a clearer remuneration of non-drawing uses, and in particular the supply for the salubrity at the head of the rivers or to the minimum flow requirement.
Ce rapport rassemble les résumés exécutifs de l'état des lieux (partie 1), puis des points de vue d'acteurs et perspectives (partie 2) de l'audit des concessions d'État du système Neste commandé à Irstea par le Ministère de l'Agriculture, dans la perspective de leur transfert aux Régions Occitanie et Nouvelle-Aquitaine. Il est complété par une analyse Atout –Forces-Faiblesses-Opportunités (AFOM) de la gestion de ce système complexe que constitue le système Neste. L'enjeu principal pour la durabilité de ce système porte sur la réforme de son modèle économique. Elle doit comprendre une profonde révision du mode de tarification des usages préleveurs (agriculture, eau brute pour l'eau potable et l'industrie) qui contribuent à l'essentiel des recettes d'exploitations et maintenance du système. Elle devrait comprendre aussi une rémunération claire des usages non préleveurs, et notamment de la salubrité en tête de bassin et le soutien d'étiage.
Fichier principal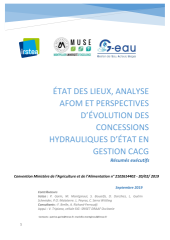 audit-CACG-résumés-exécutifs-AFOM_Vfin.pdf (1.33 Mo)
Télécharger le fichier
Origin : Files produced by the author(s)