Causes d'abandons et d'arrêts des projets de microfermes maraîchères dans le cadre d'une installation accompagnée
Lately, enthusiasm for market gardening on small surfaces lead to a series of questions about the actual success of such atypical projects. Half-directive interviews were conducted with people accompanying project owners, enabling a better understanding of the causes leading to an abandon of such projects, before or after installation. The latter concerns in majority people from outside the farming world, through reconversions. These people often have an idyllic vision of the job, and they don't always realize the technical difficulty implied. Therefore, renunciations after a first contact are frequent. In addition to a theoretical formation, practice, through internships, jobs or volunteering, seems important to apprehend the reality of the job. A diversification of the farms and accompanying structures may enable to acquire a critical perspective and to better adapt the project. Later in the installation process, problems such as acquiring a land or a funding would become the main reasons for giving up. Once farmers are installed, cessations seem relatively scarce among accompanied installations. This is often justified through the farmers' motivation, enabling them to maintain their activity despite the difficulties. Main mentioned causes for cessations are family or relational issues; economic issues due to the farmer's technical choices, leading to disappointment concerning the income; and health issues. This study gives some leads to a better support of these emergent profiles and their integration into the farming world.
L'engouement récent pour le maraîchage diversifié sur petites surfaces amène à se poser de nombreuses questions sur le succès réel de tels projets agricoles atypiques. Des entretiens semidirectifs avec des personnes participant à l'accompagnement des porteurs de projets ont été réalisés afin de mieux connaître les causes pour lesquelles des projets micro-maraîchers peuvent être abandonnés, avant ou après l'installation. Celle-ci concerne majoritairement des personnes non issues du monde agricole, en reconversion. Ces personnes ont une vision souvent idéalisée du métier, et ne réalisent pas toujours sa complexité technique. Par conséquent, les abandons après une première prise de contact sont fréquents. En plus d'une formation théorique, la pratique, par des stages, du salariat ou du bénévolat, semble importante afin de mieux appréhender la réalité du métier. Une diversification des fermes et des accompagnements fréquentés permet d'acquérir un certain recul critique et d'adapter au mieux le projet d'installation. Pour des porteurs de projets plus avancés dans le parcours à l'installation, des problèmes tels que le foncier et le financement seraient les principales causes d'abandons de projets. Une fois les maraîchers installés, les arrêts d'activité semblent assez rares parmi les installations accompagnées. Cela est souvent justifié par la motivation des maraîchers, qui parviennent à maintenir leur activité malgré les difficultés. Les principales causes d'arrêts évoquées sont les problèmes familiaux ou relationnels ; les difficultés économiques liées aux choix techniques du maraîcher, et pouvant amener à une déception quant au revenu créé ; et les problèmes de santé. Cette étude donne des pistes pour mieux accompagner l'installation de ces profils émergents et leur intégration au monde agricole.
Fichier principal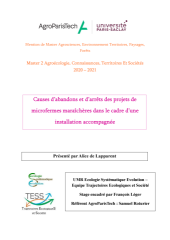 DELAPPARENT_Mémoire_M2ACTES.pdf (1.55 Mo)
Télécharger le fichier
Origin : Files produced by the author(s)
Licence : CC BY ND - Attribution - NoDerivatives