Stratégie d'une junior minière française face au « risque social » : le cas du projet Fonts-Bouillants
Social risk, i.e. the opposition of local populations, has now become one of the major issues for mineral exploration or exploitation projects. In France, protest movements against them have been holding back the mining revival desired by the government and the industry for over a decade. This article examines the trajectory of one of these projects which has been able to develop without facing any social mobilization or local resistance. Located in the French's department of Nievre, it concerns gaseous deposits of helium and carbon dioxide and is being carried out by a French junior company recently created. The analysis is conducted through the prism of a grid that seeks to evaluate this risk for several mining projects within Canada. Our work offers the opportunity to revisit this grid by comparing the Canadian and French contexts, the latter being characterized by a decline since the 1990s. It also highlights the main reasons of the project's success to date: its low direct impact on the environment and an effective communication strategy led by the company based on a storytelling marketing approach. At this stage, co-constructive dynamics are non-existent, mainly due to stakeholders' wish to not play a role other than that of secondary partner.
La question du risque social, c'est-à-dire de l'opposition des populations locales, se pose désormais comme l'un des enjeux majeurs pour tout projet d'exploration ou d'exploitation des ressources du sous-sol. En France, les mouvements de protestation à leur encontre contrarient depuis plus d'une décennie la relance minière souhaitée par l'État et les acteurs du secteur. Cet article propose d'examiner la trajectoire de l'un de ces projets qui se développe jusqu'à ce jour sans faire l'objet de mobilisations sociales ou de résistances locales. Situé dans le département de la Nièvre, il concerne des gisements gazeux constitués d'hélium et de gaz carbonique et est porté par une compagnie minière française junior récemment créée. L'analyse est conduite au prisme d'une grille de lecture qui cherchait à évaluer ce risque pour plusieurs projets miniers au Canada. Cette recherche offre, tout d'abord, l'occasion de revisiter cette grille en mettant en miroir les contextes miniers canadien et français, ce dernier étant marqué par un fort déclin depuis les années 1990. Elle permet également d'identifier les principales raisons du succès, à ce jour, du projet minier étudié : ses faibles impacts directs sur l'environnement et une stratégie de communication efficace de l'entreprise reposant en grande partie sur une approche marketing de type storytelling. Les dynamiques de co-construction sont à ce stade inexistantes, principalement en raison de parties prenantes locales qui ne souhaitent pas jouer un autre rôle que celui de simples partenaires dans le développement du projet.
Fichier principal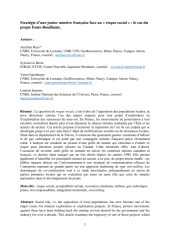 VertigO_RisqueSocial_Reys et al.pdf (903.5 Ko)
Télécharger le fichier
Origin : Files produced by the author(s)