Building an interpretable fuzzy rule base from data using Orthogonal Least Squares Application to a depollution problem
In many fields where human understanding plays a crucial role, such as bioprocesses, the capacity of extracting knowledge from data is of critical importance. Within this framework, fuzzy learning methods, if properly used, can greatly help human experts. Amongst these methods, the aim of orthogonal transformations, which have been proven to be mathematically robust, is to build rules from a set of training data and to select the most important ones by linear regression or rank revealing techniques. The OLS algorithm is a good representative of those methods. However, it was originally designed so that it only cared about numerical performance. Thus, we propose some modifications of the original method to take interpretability into account. After recalling the original algorithm, this paper presents the changes made to the original method, then discusses some results obtained from benchmark problems. Finally, the algorithm is applied to a real-world fault detection depollution problem.
Dans de nombreux domaines où l'humain intervient de manière décisive, comme les bio-procédés, l'extraction de connaissances à partir des données est susceptible d'apports importants. Les méthodes d'apprentissage floues peuvent être particulièrement utiles dans ce cadre. Parmi celles-ci, l'objectif des méthodes qui réalisent une orthogonalisation est de construire des règles à partir d'un ensemble d'exemples et de sélectionner les plus importantes par régression linéaire. L'algorithme OLS est un bon représentant de ces méthodes. Nous proposons de le modifier pour qu'il prenne en compte l'interprétabilité des règles, en plus des critères de performance numérique. Après avoir rappelé l'algorithme original, l'article présente les modifications proposées et discute les résultats de la comparaison à l'aide de jeux de données bien connus. Enfin, le nouvel algorithme est appliqué à un problème de diagnostic dans un procédé de dépollution des eaux.
Fichier principal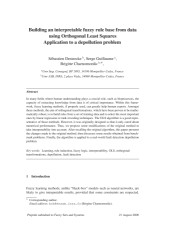 FSS_learningOLS.pdf (292.1 Ko)
Télécharger le fichier
Origin : Files produced by the author(s)