Proposición metodológica para el análisis de la gobernanza territorial a partir de una experiencia francesa
Territorial Governance (GT) has become a challenge for the implementation of public policies and the need for territorial development actors. This paper presents an analytical framework of territorial governance built as part of a multidisciplinary research project focused on the topic of organizational innovations in governance arrangements has presented. The methodological proposition comes first building a common operational definition of the research team and then the translation guide analysis. Propose a guide is not an easy exercise if you want to take into account the specificities of local situations. In fact, devices and instruments are contextual and plural governance, product objectives and past dynamics. They can arise from a strategy of exploitation or exploration. We illustrate the operational capacity of the methodology relying on fieldwork carried out in three contrasting situations of governance in the region of Languedoc-Roussillon.
La Gobernanza Territorial (GT) se ha convertido en un reto para la implementación de políticas públicas y la necesidad de los actores del desarrollo territorial. En este trabajo se presenta un marco analítico de gobernanza territorial construido como parte de un proyecto de investigación multidisciplinar centrado en el tema de las innovaciones organizacionales en los acuerdos de gobernanza. La proposición metodológica surge primero construyendo una definición operacional común al equipo de investigación y luego la traducción en guía de análisis. Proponer una guía no es un ejercicio fácil si se quiere tener en cuenta las especificidades de las situaciones locales. De hecho, los dispositivos y las instrumentos son contextuales y la gobernanza plural, producto de los objetivos y las dinámicas pasadas. Estas pueden surgir de una estrategia de explotación o de exploración. Ilustramos la capacidad operativa de la metodología apoyándonos en un trabajo de campo realizado a cabo en tres situaciones contrastadas de gobernabilidad en la región de Languedoc-Rosellón.
Fichier principal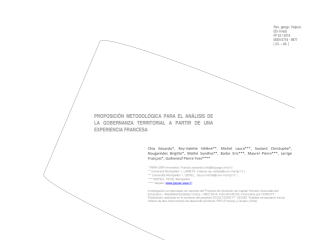 2016_Chia et al_PUCV_1.pdf (554.91 Ko)
Télécharger le fichier
Origin : Publisher files allowed on an open archive