French territorialized agri-environmental measures for water issue: a false good idea?
Le dispositif des MAEt pour l'enjeu eau : une fausse bonne idée ?
Territorialized agri-environmental measures (MAEt) were introduced in France for the 2007-2013 Common Agricultural Policy program, in order to improve the cost-effectiveness of agri-environmental policies. This paper assesses qualitatively the innovations of MAEt with special attention paid to water pollution issues. We analyze the advantages and limits of the partial decentralization of decision-making in the setting-up of agrienvironmental projects; of improved targeting through the identification of eligible priority areas; and of greater flexibility introduced in the design of agri-environmental contracts. This analysis is illustrated by the results of a survey conducted with farmers in a French sub-region, Eure-et-Loir. This survey helps us to identify the reasons why farmers choose to sign agri-environmental contracts or not. The article concludes with a set of recommendations to improve the French agri-environmental system in the perspective of the 2013 CAP reform.
Les Mesures agro-environnementales territorialisées (MAEt) ont été introduites en France pour la programmation 2007-2013 de la Politique agricole commune, afin d'améliorer le bilan coût-efficacité du dispositif agro-environnemental français. Cet article évalue de manière qualitative les innovations des MAEt avec une attention particulière portée aux enjeux de lutte contre les pollutions de l'eau d'origine agricole. Nous analysons la décentralisation croissante du dispositif agro-environnemental, le ciblage et l'adaptation aux territoires à enjeux prioritaires, et les éléments de flexibilité introduits pour construire les cahiers des charges des agriculteurs. Cette analyse est illustrée par les résultats d'une enquête réalisée en Eure et Loir auprès d'agriculteurs. Ces deux analyses complémentaires nous permettent d'apporter des éléments d'explication au trop faible taux d'adoption des mesures de réduction d'intrants en grandes cultures et de proposer des améliorations au dispositif actuel.
Fichier principal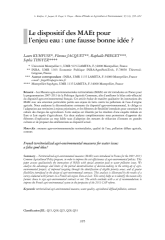 RAESTUD-2012_1.pdf (687.27 Ko)
Télécharger le fichier
Origin : Files produced by the author(s)