Which lessons from studies on permanent pastures are to be made use of for the sowing and the management of multi-specific pastures?
Quels enseignements d'études sur prairies permanentes mobiliser pour implanter et gérer les prairies plurispécifiques ?
Recent studies, associating approaches taken from functional ecology and traditional agronomical processes, have resulted in significant progress in the way multi-specific permanent pastures can be characterized. In this paper we put forward the notion of functional plant types, which are identified on the basis of common biological features and by their links to the agricultural characteristics of the species; these characteristics are those that define the use value of the pasture. The results from many studies, with a vast array of experimental designs (collection of native species, fertilisation trials, network of experimental plots on individual farms) show the existence of stable relationships between the types of dominant species in a pasture and the methods of management (intensity of defoliation and fertilisation). These results are discussed in view of an application to pastures with a complex floristic composition. Suggestions are made concerning the rules for the association of species and the methods of management to apply in order to ensure the perenniality of the pastures after sowing.
Des travaux récents, associant des approches issues de l'écologie fonctionnelle aux démarches agronomiques traditionnelles, ont permis des avancées significatives dans la manière de caractériser les prairies permanentes riches en espèces. Dans cet article nous présentons la notion de types fonctionnels de plantes identifiés sur la base de traits biologiques communs, et leurs liens avec les caractéristiques agronomiques des espèces, caractéristiques qui définissent la valeur d'usage de la prairie. Les résultats des études menées sur des dispositifs expérimentaux très variés (collection d'espèces natives, essais de fertilisation, réseaux de parcelles chez des éleveurs) montrent qu'il existe des relations stables entre les types d'espèces dominantes dans la prairie et les modes de conduites (intensité de défoliation et fertilisation). Ces résultats sont discutés dans la perspective d'une application aux prairies à flore complexe. Des propositions sont faites concernant les règles d'assemblage des espèces et les modes de conduites à mettre en œuvre pour les pérenniser une fois implantées.
Fichier principal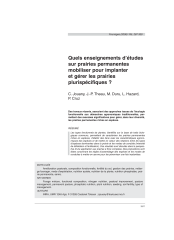 2008_Jouany_Fourrages_1.pdf (357.08 Ko)
Télécharger le fichier
Origin : Files produced by the author(s)