Des savoirs locaux insaisissables ? L'exemple de la tenderie aux grives en Ardenne
Local knowledges are now considered as legitimate in the management of nature. They are mobilised in the same way as scientifical and technical knowledge to contribute to the elaboration of standards compatible with the conservation of biodiversity in participatory approach schemes. However, this integration of lay knowledge is not easy. The deep study of trap activity, thrush snaring, based on participative observation, reveals the difficulties to access and to highlight these knowledges. It supposes for the investigator to make a detour by learning which is a necessary precondition to account for the nature and the characteristics of these knowledges, because one of their particularities is that they are rarely specified. The unformulated mode of expression of theses know-how combined with the secret of the activity, doesn't facilitate exchange, communication and transmission of these knowledges.
Les savoirs locaux ont désormais acquis une légitimité dans la gestion de la nature. Ils sont convoqués au même titre que d'autres formes de savoir, scientifiques, techniques, à participer à l'élaboration de normes de gestion compatibles avec la sauvegarde de la biodiversité, dans le cadre de dispositifs d'action concertée. Or, cette mobilisation des savoirs " profanes " ne va pas de soi. L'examen approfondi d'une activité de piégeage, la tenderie aux grives, fondé sur un travail d'observation participante révèle la difficulté d'accéder et de mettre au jour ces savoirs. Elle requiert de la part de l'enquêteur un détour par l'apprentissage, préalable indispensable pour rendre compte de la nature et des caractéristiques de ces connaissances dont l'une des particularités essentielles est qu'elles sont rarement explicitées. Le mode d'expression non verbalisé de ces savoir-faire conjugué au secret qui entoure cette activité rend difficile l'échange, la communication et la transmission de ces savoirs.
Fichier principal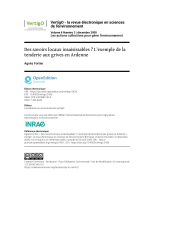 SavoirsLocauxTenderievertigo.pdf (367.46 Ko)
Télécharger le fichier
Origin : Publisher files allowed on an open archive
Licence : CC BY NC ND - Attribution - NonCommercial - NoDerivatives