Usages du numérique en agriculture : enquête auprès de 98 exploitations ayant des grandes cultures en région Occitanie
The document is a contribution to the debate on digital technology in the agricultural sector. It presents the results of a survey on the use of digital tools, carried out with 98 crop farmers in the Occitanie region. The document describes the sample surveyed and shows a widespread use of digital tools. A more detailed description of the use of guidance technologies, modulation, farm management software and the internet shows the issues surrounding these uses. A construction of use profiles then shows how digital technologies are used in combination by farmers, and how they are linked to various economic, individual, agronomic and relational variables. The document ends with a presentation of the advantages, drawbacks, opportunities and risks cited by the farmers.
Le document est une contribution aux réflexions sur le numérique dans les filières agricoles. Il présente les résultats d'une enquête sur les usages du numérique, réalisée auprès de 98 agriculteurs et agricultrices ayant des grandes cultures en région Occitanie. Le document décrit l'échantillon enquêté, montrant une utilisation répandue des outils numériques. Une présentation plus détaillée des usages des technologies de guidage, de modulation, de logiciel de gestion parcellaire et d'internet précisent les enjeux autour de ces usages. La construction de profils d'usage permet ensuite de voir comment les technologies numériques sont utilisées de manière combinées dans les exploitations, et peuvent être liées à des facteurs économiques, individuels, agronomiques et relationnels. Le document finit par la présentation des avantages, inconvénients, opportunités et risques cités par les enquêtés.
Fichier principal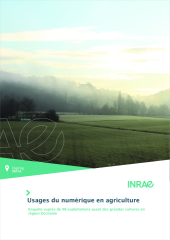 2022_Schnebelin et al_Rapport_AgriNum.pdf (2.5 Mo)
Télécharger le fichier
Origin : Files produced by the author(s)