Dairy Health Manager : un simulateur multi-agents flexible pour l'étude des maladies des animaux d'élevage
Simulation allows to compare the dynamics and treatment scenarios for various diseases and to identify the most effective control measures. In animal production, simulators have been regularly developed to assess the effect of animal diseases on animal perfor-mances and their economic consequences. The DHM platform (Dairy Health Manager) offers a multi-agent framework to enhance the performance, genericity and upgradability of such models and facilitate exchanges with non-modelling scientists in animal sciences. We illustrate the modularity of DHM through Dairy Cow Agents and Quarter Delegate Agents evolving within the batches of the herd. The development of a first application to a metabolic disease, ketosis, opens multiple perspectives.
La simulation permet de comparer des scénarios d'apparition, de développement et de traitement de maladies et d'identifier des leviers de maîtrise efficaces. Dans le cas de l'élevage, des simulateurs ad hoc ont été régulièrement élaborés pour quantifier l'effet des maladies sur les performances animales et leurs conséquences économiques. La plate-forme DHM (Dairy Health Manager) propose un cadre multi-agents pour renforcer la performance, la généricité et l'évolutivité de tels modèles et faciliter les échanges avec des scientifiques non modélisateurs en sciences animales. Dans cet article, nous illustrons la modularité de DHM à travers des Agents Vaches Laitières (AVL) et les Agents Délégués Quartiers (ADQ) évoluant au sein des différents lots du troupeau. Le développement d'une première application à une maladie métabolique, les cétoses, offre de nombreuses perspectives.
Fichier principal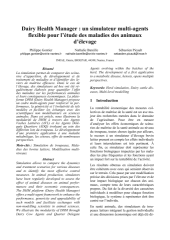 Gontier22JFSMA.pdf (582.93 Ko)
Télécharger le fichier
Origin : Files produced by the author(s)