No beasts. Bulls labor in the Camargue arena
Nada de bestias. Trabajo de toros en la arena camarguesa
Pas si bêtes. Travail de taureaux dans l'arène camarguaise
Ninguém é uma besta. Trabalho de touros na arena de Camargue
In this paper we propose to approach the camarguaise bullfighting through animal work. We will focus on the Biòu d'Or bulls career, which is the main objective of the breed, the Course, a sport based on the competition of speed and agility between humans and bulls in Camargue, in the south of France. We identified a profession of up to 12 years, where knowledge and intelligence grow in the bull's body thanks to the repeated exposure to the razateur. We have found two aesthetics of sport that have their correlation in the breeding labor, both of which are settled between strength and an active submission, which creates conditions of possibility to diminish or increase humanity and animality. The findings are based on data collected through participant observation of ten Courses in Camargue and the analysis of private audiovisual archives, and 15 semi-directed interviews with razeteurs and ranchers during 2021.
En este trabajo nos proponemos abordar la corrida camarguesa (CC) a través del trabajo animal. Abordaremos la carrera del Toro Biòu de Oro. El objetivo principal de la raza es la Course, un deporte basado en la competición de velocidad y agilidad entre humanos (razeteurs) y toros en Camargue, al sur de Francia. Identificamos una carrera de hasta 12 años, donde crece un conocimiento en el cuerpo, su inteligencia gracias a la exposición repetida al razateur. Hemos encontrado dos estéticas del deporte que tienen su correlato en el trabajo ganadero, ambas se dirimen entre la fuerza y una sumisión activa, lo que crea condiciones de posibilidad para disminuir o aumentar la humanidad y animalidad. Los hallazgos se sostienen en datos relevados por la observación participante de diez courses camarguesas y el análisis de archivos audiovisuales privados, y 15 entrevistas semidirigidas a razeteurs y ganaderos durante 2021.
Dans cet article, nous proposons d'aborder la course camarguaise (CC) par le travail des animaux. Nous abordons la carrière du taureau Biòu d'Or, sachant que l'objectif principal de son lignage est la Course, un sport basé sur la compétition de vitesse et d'agilité entre les humains et les taureaux en Camargue, aux sud de la France. Nous avons identifié un parcours de 12 ans, un savoir que se développe dans le corps et une intelligence qui grandit grâce à l'exposition répétée au razateur. Nous avons identifié deux type d'esthétique de ce sport, qui ont leur expression dans l'élevage, entre la force et une soumission active, ce qui crée des conditions de diminuer ou d'augmenter l'humanité et l'animalité. Les conclusions se fondent sur des données recueillies par l'observation-participante de dix cours en Camargue et l'analyse d'archives audiovisuelles privées, et 15 entretiens semi-dirigés avec des razeteurs et des éleveurs en 2021.
Fichier principal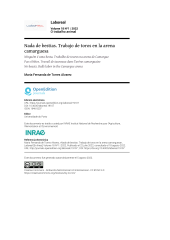 2022_De Torres Alvarez_Laboreal.pdf (331.89 Ko)
Télécharger le fichier
Origin : Publisher files allowed on an open archive