Geographical indications in relation to the theory of the commons
Les indications géographiques au regard de la théorie des communs
As indicações geográficas sob a perspectiva da teoria dos comuns
If, from a theoretical point of view, geographical indications (GIs) can be considered as club goods or commonpool resources, we argue that their conception by the stakeholders as territorial common-pool resources is a key success factor, through the implied coordination between actors and the articulation with territorial dynamics. However, building upon case studies in Asia, Africa and Latin America, we show the difficulty of establishing an appropriate management mode, given the multiplicity of objectives assigned to GIs, the possible disinterest of the actors if the value-creation attached to the GI is considered uncertain and contrarious given possible appropriations by a small group if this value-creation is proven.
Si, d'un point de vue théorique, les Indications Géographiques (IG) peuvent être considérées comme des biens de clubs ou des ressources communes, nous considérons que leur conception par les parties prenantes comme des ressources communes territoriales est un facteur clé de leur succès, via la coordination entre acteurs et l'articulation aux dynamiques territoriales que cela implique. À partir d'études de cas en Asie, Afrique et Amérique Latine, nous montrons cependant la difficulté de l'instauration d'un mode de gestion approprié, du fait de la multiplicité des objectifs assignés aux IG, du possible désintérêt des acteurs si la valorisation de l'IG est jugée incertaine et a contrario d'éventuelles appropriations par un groupe restreint si cette valorisation est avérée.
Se, de um ponto de vista teórico, as Indicações Geográficas (IG) podem ser consideradas como bens clube ou recursos comuns, consideramos que sua concepção pelas partes interessadas como recursos territoriais comuns é um fator-chave para seu sucesso, por meio da coordenação entre os atores e da articulação com as dinâmicas territoriais que isso implica. Com base em estudos de casos na Ásia, África e América Latina, demonstramos, entretanto, a dificuldade de estabelecer um modo de gestão adequado, devido à multiplicidade de objetivos atribuídos às IG, o possível desinteresse das partes interessadas se a valorização da IG for considerada incerta e, ao contrário, possíveis apropriações por parte de um grupo restrito se esta avaliação for comprovada. Palavras-chave: Indicações Geográficas. Bem Clube Comuns. Recurso Territorial.
Fichier principal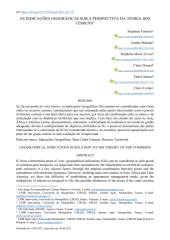 2022_Fournier et al_Raizes.pdf (352.96 Ko)
Télécharger le fichier
Origin : Publisher files allowed on an open archive