Positionnement et représentativité des sites du Réseau de Mesures de la Qualité des Sols dans le réseau national d'aires protégées
Since 2000, INRA, now INRAE, has been carrying out a soil quality monitoring project in metropolitan France and the overseas departments through annual sampling on identified sites. Within the framework of this network, the main objective of the work presented here is to provide a cartographic representation of the sites, distinguishing those that are located within or near a national protected area. An analysis will complete this work in order to have a picture of the distribution of sites related to protection measures or inventories of our natural heritage. The methodology applied first of all guides the choice of data and their processing. It conditions the cartographic realizations and thus the legibility as well as the elements of knowledge brought. This data sorting and manipulation work was carried out with the Arcgis GIS software. In addition, as there are many national protection tools, a classification by type of tools is necessary. The results show that the RMQS sites in protected areas and inventory zones represent 45.8% of all sites in metropolitan France and 60.6% of all sites in the Overseas Departments concerned by the project. The results differ by region and department. For example, protected areas and inventory zones are very present in the Mediterranean basin, which is qualified as a biodiversity "hot spot". In this perspective, this work will make it possible to address the issue of soil quality in terms of its use, management methods and biodiversity.
L'INRA, aujourd'hui INRAE, mène depuis l'année 2000 un projet de suivi de qualité des sols en métropole et dans les départements d'outre-mer qui passe par des prélèvements annuels sur des sites identifiés. Dans le cadre de ce Projet Réseau de Mesures de la Qualité des Sols (RMQS), le travail présenté ici a pour principal objectif de fournir une représentation cartographique des sites, en distinguant ceux qui se trouvent au sein ou aux abords d'une aire nationale protégée. Une analyse complètera ce travail afin d'avoir une photographie de la répartition des sites rattachés à des mesures de protection ou des inventaires de notre patrimoine naturel. La méthodologie appliquée oriente tout d'abord le choix des données et de leur traitement. Elle conditionne les réalisations cartographiques et donc la lisibilité ainsi que les éléments de connaissances apportés. Ce travail de tri et de manipulation de données s'est effectué avec le logiciel SIG ArcGIS. Par ailleurs, les outils de protection nationale étant nombreux, une classification par type d'outils est nécessaire. Les résultats montrent que les sites RMQS en espaces protégés et zones d'inventaire représentent 45,8% de la totalité des sites en France métropolitaine et 60,6% de la totalité des sites dans les Départements d'Outre-Mer concernés par le projet. Les résultats diffèrent selon les régions et départements. Par exemple, les espaces protégés et zones d'inventaire sont très présents dans le bassin méditerranéen qui est qualifiée de "point chaud" de biodiversité. Dans cette perspective, ce travail permettra d'aborder la question de la qualité du sol sur son usage, ses modes de gestion et sa biodiversité.
Fichier principal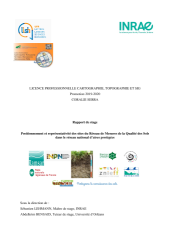 Final rapport de stage.pdf (57.17 Mo)
Télécharger le fichier
Origin : Files produced by the author(s)