Impacts des rejets de stations d'épuration sur la communauté bactérienne : études in situ et expérimentale
The first part of this report shows the treatment plant effluent impact on the volume of bacteria in the Garonne River water.The second part presents results obtained in small reactors and concerns the adaptation of periphyton collected in the river Garonne, to various phosphorus concentrations.
Ce travail comporte deux parties. Dans la première est évalué l'impact des rejets des stations d'épuration (situées sur un tronçon de 140 km de la Garonne) sur la communauté bactérienne de la colonne d'eau en liaison avec la qualité de l'eau. Plus précisément, c'est le volume cellulaire moyen des bactéries présentes en amont et en aval de ces rejets qui est déterminé ; le but étant d'établir si ces cellules bactériennes proviennent du rejet ou s'il s'agit de bactéries présentes normalement dans le milieu mais qui ont un volume plus important du fait de teneurs en nutriments (phosphore et azote principalement) plus élevées. Dans la seconde partie, l'expérimentation se fait sur des canaux alimentés en eau de la Garonne. L'adaptation du biofilm naturel (périphyton bactérien et algal) à des modifications expérimentales de la qualité de l'eau (à savoir concentrations croissantes en phosphore) est étudié.
Fichier principal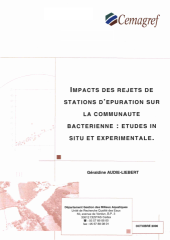 audie.pdf (10.54 Mo)
Télécharger le fichier
Origin : Explicit agreement for this submission