Enjeux et défis de la production de légumes dans divers contextes périurbains
Today, 79% of the French population is urban. The growing societal demands concerning the environment, the quality of the living environment, and the reterritorialization of food are placing peri-urban agriculture at the heart of many issues. In this context, the GIS PICleg, of which INRAE and CTIFL are members, seeks to analyze the problems and challenges of vegetable production in various peri-urban contexts. Thus, the study of three territories is proposed: Lyon Métropole, Aubagne and La Réunion. Semi-structured interviews with various actors in vegetable production and local authorities revealed that the peri-urban location of farms is a source of opportunities (proximity to a consumption basin) but also of numerous constraints (access to land, water, time-consuming logistics or tensions between residents and farmers). These opportunities and constraints are present in all the territories studied, but to varying degrees. The challenges expressed for the research and development of this sector are certainly technical (practices that save water and phytosanitary products) but also socio-political, particularly in terms of supporting dialogue between producers and local authorities and promoting organization and cooperation between producers regarding the use of resources and marketing.
De nos jours, 79% de la population française est urbaine. Les demandes sociétales croissantes autour de l'environnement, de la qualité du cadre de vie, de la reterritorialisation de l'alimentation placent donc les agricultures périurbaines au coeur de nombreux enjeux. Dans ce contexte, le GIS PICleg dont INRAE et le CTIFL font partie, cherche à analyser les problématiques et les défis de la production de légumes dans divers contextes périurbains. Ainsi, l'étude de 3 territoires est proposée : Lyon Métropole, Aubagne et La Réunion. A l'issue d'entretiens semi-directifs auprès de divers acteurs de la production de légumes et des collectivités territoriales, il ressort que la localisation périurbaine des exploitations est une source d'opportunités (proximité d'un bassin de consommation) mais aussi de nombreuses contraintes (accès au foncier, à l'eau, logistique chronophage ou encore tensions entre les riverains et les agriculteurs). Ces opportunités et contraintes sont présentes quel que soit le territoire étudié mais à des degrés variables. Les défis exprimés pour la recherche et le développement de cette filière sont certes techniques (pratiques économes en eau et produits phytosanitaires) mais également socio-politiques particulièrement pour appuyer le dialogue entre producteurs et collectivités territoriales ; et pour favoriser l'organisation et la coopération entre producteurs autour de l'usage des ressources et de la commercialisation.
Fichier principal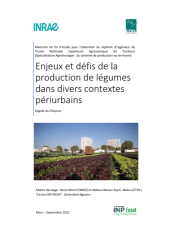 mémoire-angele-du-cheyron_sans_comment.pdf (1.9 Mo)
Télécharger le fichier
Origin : Files produced by the author(s)