Dairy Health Manager: Functional description and terms of use
Dairy Health Manager : Description fonctionnelle et modalités d'emploi
The Dairy Health Manager simulator (DHM) was designed to simulate a dairy cattle herd in a particular farming context. Only dairy production is considered in the simulator with the assumption that the farmer defines the size of his livestock according to its production's objectives and his premises. Developed on a self-centered model basis, it introduces the interest of finely representing the herd by allowing the integration of individuals' diversity and their biological responses' variability. In this context, the simulator makes it possible to take into account the differences and the genetic variability within and between breeds due to crossing. Furthermore, it enables to consider the interactions between the different decisions based on individual character, such as insemination type choice and culling criteria. The modeling aims to represent the biological processes and the more technical ones related to the farmer's decision-making.
Le simulateur « Dairy Health Manager » (DHM) a été conçu afin de simuler un troupeau de bovins laitiers dans un contexte particulier d'exploitation agricole. Seul l'atelier de production laitière est considéré dans le simulateur avec pour hypothèse que l'éleveur définisse la taille de son cheptel en fonction de ses objectifs de production et de ses contraintes structurelles. Développé sur la base d'un modèle individu-centré, il présente l'intérêt de représenter finement le troupeau en permettant notamment d'intégrer la diversité des individus et la variabilité de leurs réponses biologiques. Dans ce cadre, le simulateur permet de prendre en compte les différences et la variabilité génétique intra et inter races liées au croisement. Il permet également d'envisager la représentation d'une interaction décision-caractéristiques individuelles, comme par exemple le choix des races d'inséminations et les critères de réforme. La modélisation a pour objectif de représenter les processus biologiques et ceux plus techniques liés à la prise de décision de l'éleveur.
Fichier principal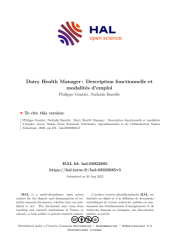 DescriptionFonctionnelleEtModalitesDEmploi.pdf (3.22 Mo)
Télécharger le fichier
Origin : Files produced by the author(s)