Mise au point de culture de cellules immunitaires intestinales de lapin
Digestive disorders are the main cause of the use of antibiotic in rabbit breeding, particularly around weaning. INRAE seized this issue, by developing preventive actions to reduce the use of antibiotics, namely through nutritional approaches. As upstream step of a larger project, this work aims to develop an in vitro cell culture method of lamina propria mononuclear cells from the rabbit caecum, main digestive immunity compartment. This tool is essential to analyse immunomodulatory impacts of nutrients and microbial metabolites at a cellular level. To answer to this requirement, experimental studies were conducted on 17 rabbit pups aged between 21 to 36 days old. These studies' goals were to elaborate a protocol to isolate and cultivate lamina propria mononuclear cells. Thereafter, cells were stimulated (Lipopolysaccharides and Phytohemagglutinin) to trigger an immune response, whose effects were studied with RT-qPCR. Research led to a robust and proven cell culture protocol. Stimulations resulted in an immune response (overexpression of IL6 and TNF with LPS and IL6, CD69 and FOXP3 with PHA). These results will enable the analyses of nutrients and microbial metabolites effects on the establishment of rabbits' digestive immunity. Nonetheless, LPS's answer was weaker than expected, therefore additional studies are still necessary to optimize cell stimulations protocol.
Les troubles digestifs sont les principaux responsables de l'usage d'antibiotiques en élevage cunicole, particulièrement en période post-sevrage. L'Institut national de recherche pour l'agriculture, l'alimentation et l'environnement (INRAE) s'est emparé de cette problématique, en développant des actions préventives pour réduire le recours à l'antibiothérapie, notamment via des approches nutritionnelles. Intégré en amont d'un projet de plus grande ampleur, ce travail consiste à développer un modèle de culture cellulaires in vitro des cellules mononuclées de la lamina propria du caecum des lapins, compartiment principal de l'immunité digestive. Cet outil est indispensable à l'analyse des mécanismes d'action de nutriments et métabolites microbiens sur la réponse immunitaire à l'échelle cellulaire. Pour cela des études expérimentales en laboratoire ont eu lieu sur 17 lapereaux âgés de 21 à 36 jours. Elles visaient d'abord à élaborer un protocole d'isolement et de mise en culture des cellules mononuclées de la lamina propria. Par la suite, les cellules ont été stimulées (Lipopolysaccharides et Phytohémagglutinine) pour déclencher une réponse immunitaire, dont l'effet a été étudié par RT-qPCR. Les recherches ont abouti à la mise au point d'un protocole de culture cellulaire robuste et éprouvé. Les stimulations ont entrainé une réponse immunitaire des cellules (surexpression de IL6 et TNF avec le LPS et de IL6, CD69 et FOXP3 avec la PHA). Ces résultats permettront d'analyser l'effet des nutriments et métabolites microbiens sur la mise en place de l'immunité digestive des lapins. Toutefois, la réponse LPS étant plus réduite qu'attendue, des études supplémentaires restent nécessaires pour optimiser le protocole de stimulation des cellules.
Fichier principal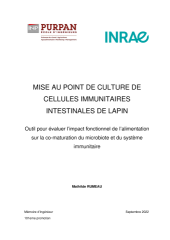 RUMEAU-MATHILDE-MEMOIRE-INGENIEUR.pdf (5.62 Mo)
Télécharger le fichier
Origin : Files produced by the author(s)