Dynamique des systèmes ovins et caprins laitiers et « problème » foncier corse
Corsican transhumant sheep and goat farming has largely been displaced over the course of the last century to the island's plains and piedmont. Although sedentarized, the farms that are found today on the island have not abandoned their historical stamp. Farmers only partly own the land they use and still make use of a wide variety of areas. This diversity is refl ected in the combination of breeds and the association of itineraries and grass, and is compatible with the areas partially owned by the farmers.
L'élevage corse de brebis et de chèvres de transhumants s'est, au cours du siècle passé, en grande partie déplacé vers les plaines et piémonts de l'île. Bien que sédentarisées, les exploitations présentes aujourd'hui dans l'île n'ont pas abandonné leur empreinte historique. Les éleveurs ne sont que partiellement propriétaires de leurs terres et sont encore largement utilisateurs d'espaces très variés. Cette diversité se retrouve dans la combinaison d'espèces élevées et l'association de parcours et herbe, et est compatible avec des surfaces partiellement possédées par les éleveurs.
Fichier principal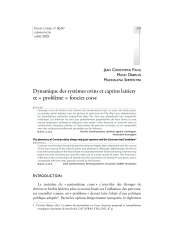 part 10 - dynamique des systemes ovins.pdf (2.81 Mo)
Télécharger le fichier
Origin : Explicit agreement for this submission
Licence : CC BY NC ND - Attribution - NonCommercial - NoDerivatives